Almost Time to Say Goodbye to Kenya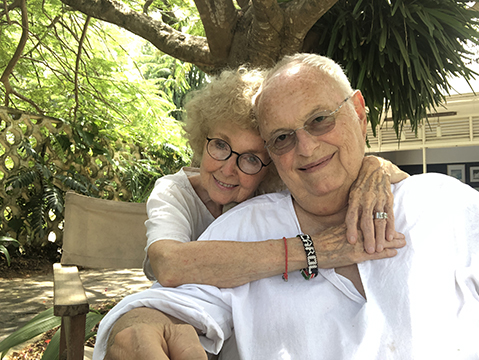 Our time in this magical place of RAS has flown by for us. It's been jam-packed with all sorts of adventures, tasks, learning, new life experiences, and as always, a renewed awareness of the world and people around us. Best of all, it's all happened under the beautiful Kikadini Tree where C.L.DECKER (aka Larry) has just written the first rough draft of the S.A.L.T. Team's next adventure. As just announced in our February newsletter, we're going to whisk you off to the awesomely beautiful country of South Africa.
We've been to this great land several times but some years ago we had one very special adventure for two weeks into the KwaZula-Natal Province of South Africa with our beloved sister Eugenie Drakes as our guide. She is a member of our core International Family, pictured here on her visit with us here at RAS last year. She'll be an important resource for our research during the coming year. Eugenie's already reminded us that to be authentic we should be coming home to SA for future research.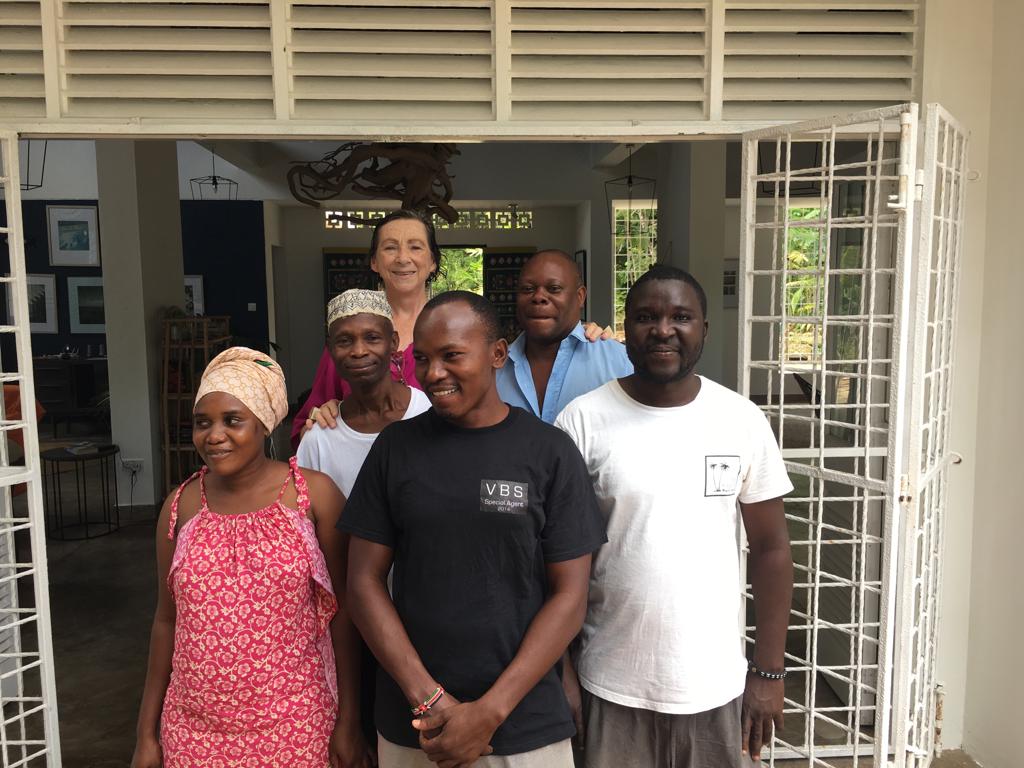 One of our first tasks on arrival "home" here in Kenya at RAS, was to get all the bicycles we'd purchased for our RAS family over to the "bicycle DOCTOR … the bicycle FUNDI" (the Swahili word for mechanic) to get them all back on the road. A year on the rugged, rutted dirt roads here had worn everything out. Many had been repaired with parts replaced and/or patched. It took him a week and he had everyone fixed up with assurances that if anything was missed or a problem to just bring them back. You wouldn't believe how many bicycles you can pack in and on top of a van. This FUNDI was a giant of a man working in the yard of his little shop under two gigantic old trees whose trunks literally grew along the ground because of their immense weight and size. His little children slithered over and around his body like serpents, as he made his repair lists and estimate for each of our bikes. It seemed to be as natural to him as breathing and he never missed a beat. It was rare and beautiful to see … a true loving tenderness from this barefoot bear of a man dressed in his well worn one piece work uniform working under the shade of these leafy giants that shaded his workplace.
When we arrived we found that the usually dry season had been drenched with endless days of rain which had left this coastal area heavy with hot and humid air… the sort that leaves you slick with sweat no matter an occasional ocean breeze or the shade of the giant trees. It was as we had left RAS the last week of our time here last year, just as the rainy season signaled its coming arrival. This year it was here at the beginning of our visit…waiting to greet us.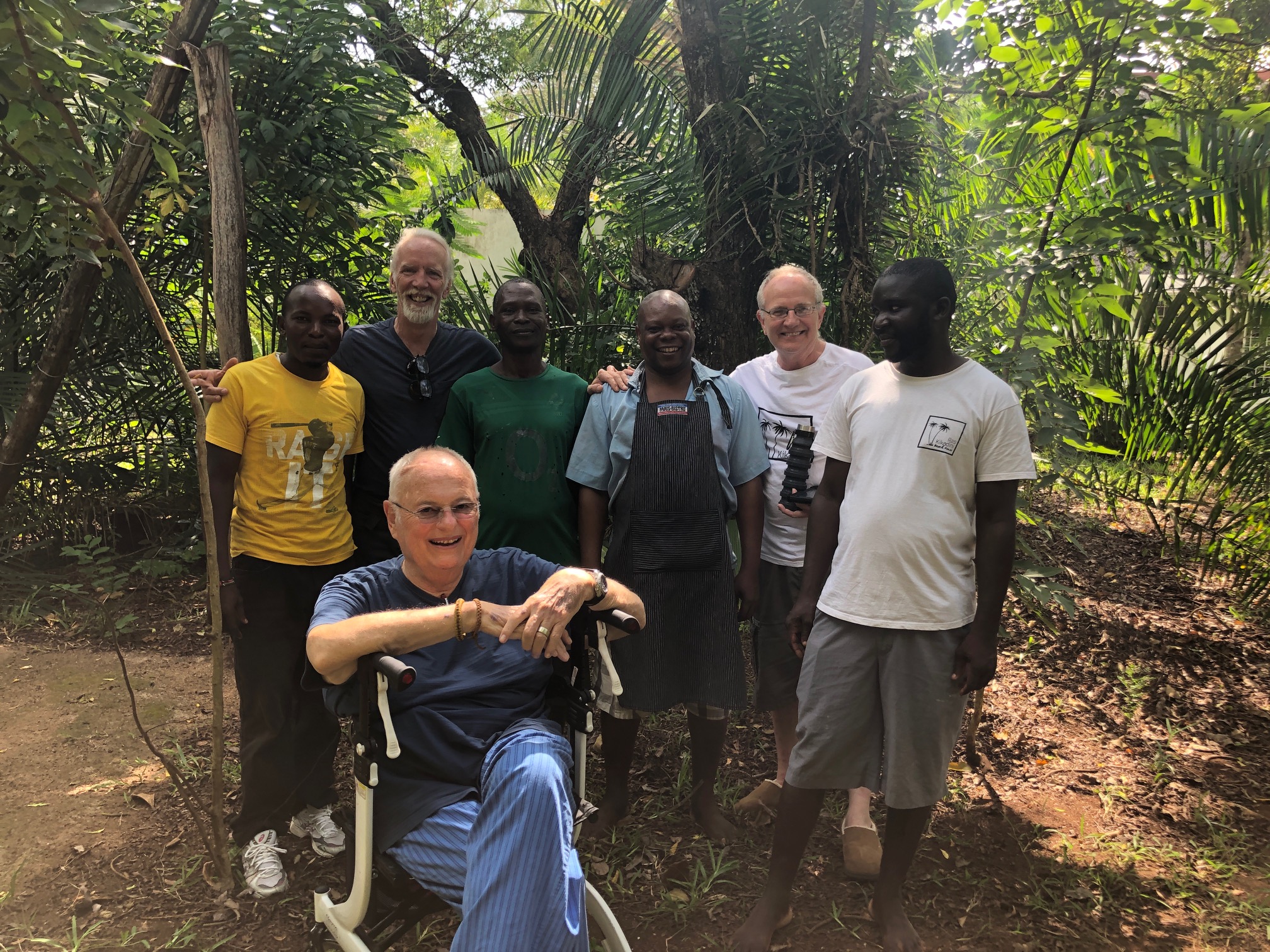 We did our best to cope and prepare for our "birth sons' " arrival for a two-week visit. Pete and Chris arrived … as we had … greeted by the heat and humidity. They felt as if they were back in North Carolina but without the relief of air-conditioning. They were terrific sports. They made good use of our fans, the plunge pool, and the shade of the house. Chris used his "evaporative wet neck towel technique" that he discovered while working on his job sites during sweltering temperature. And it WORKS!!! This was their vacation time and they intended to enjoy it no matter what.
Pete and Chris fell into the rhythm of our lives here and attached easily to all our Kenyan family who had excitedly waited their arrival. We had promised them lots of life and laughter with Pete and Chris and they were not disappointed.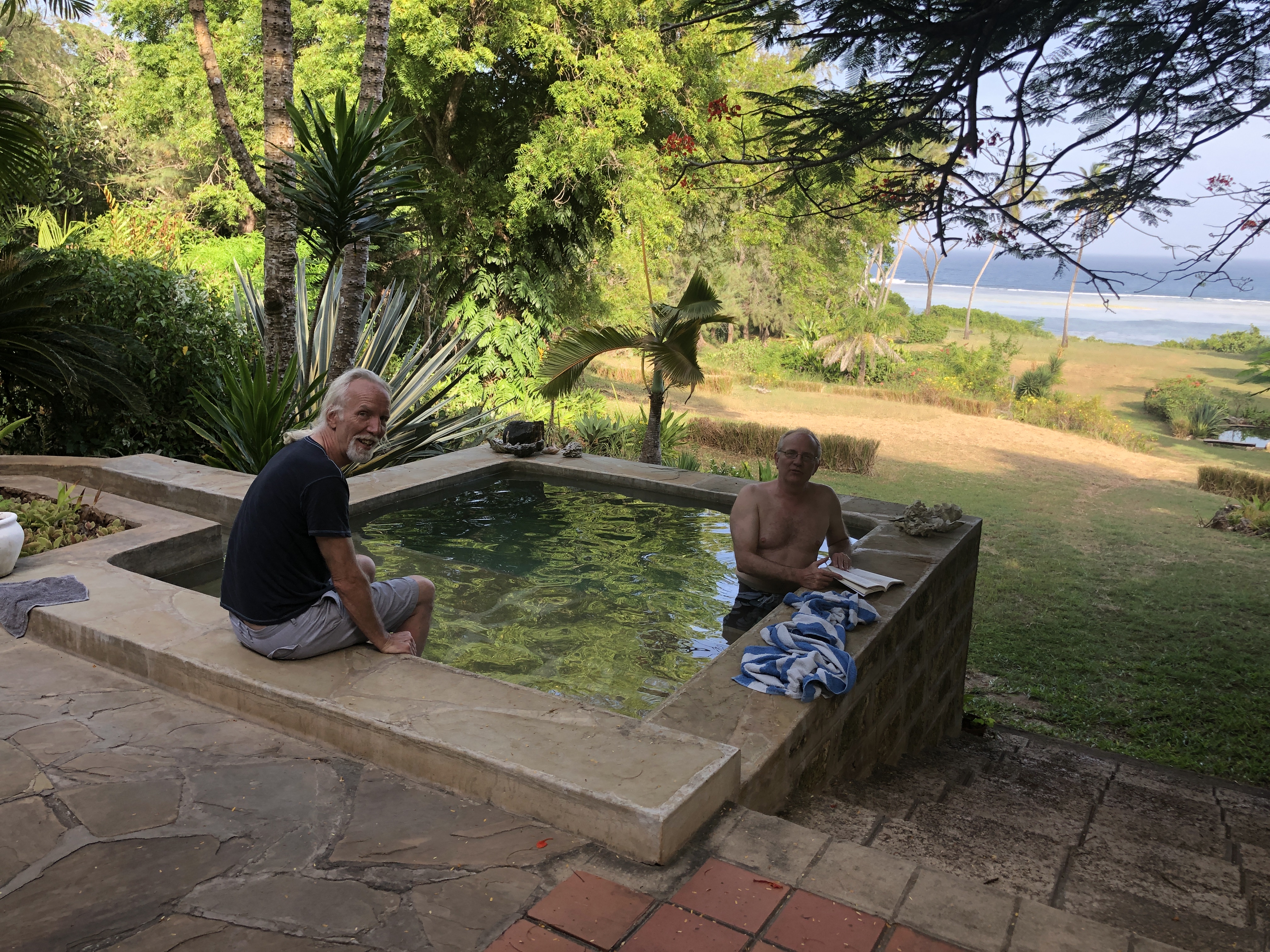 Hamisi and Bakari especially enjoyed it when Chris shared a Jackie Chan movie on Friday night Family Dinner night while teaching Popi how to operate our surprise gift from Chris of a self contained projector. It fits in the palm of your hand and projects a huge image on a wall. You can play as many movies as you can pack onto a hard drive. Chris brought the hard drive fully loaded with hundreds of movies to be viewed with NO STREAMING! A great distraction from the heat and humidity!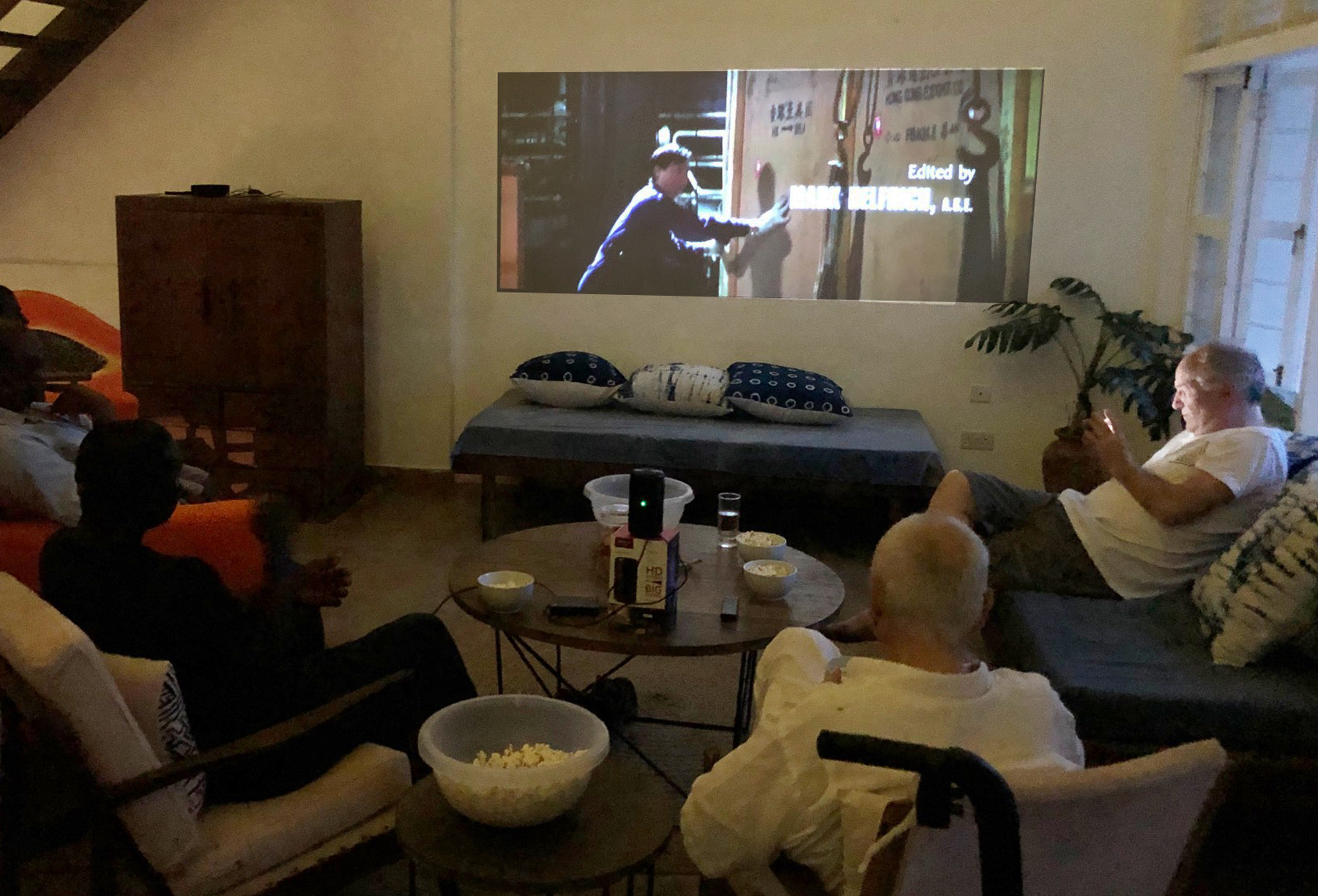 Pete and Chris asked beforehand if we could spend a few days on safari in Kenya while they were here. Linzi, RAS's owner, Kenyan born and raised (see January BLOG), referred us to a camp in the Masai Mara called Richard's Camp. Last fall, we booked four nights in the small, tented camp. As luck would have it, they had a Family Tent available during their visit with us in January, with two bedrooms and an adjoining small living room. It entailed a two-hour flight from Ukunda airstrip, (a twenty minute drive from RAS) in a twelve Passenger Caravan Plane, the sort we had flown in during our time at the Skeleton Coast in Namibia on safari years ago.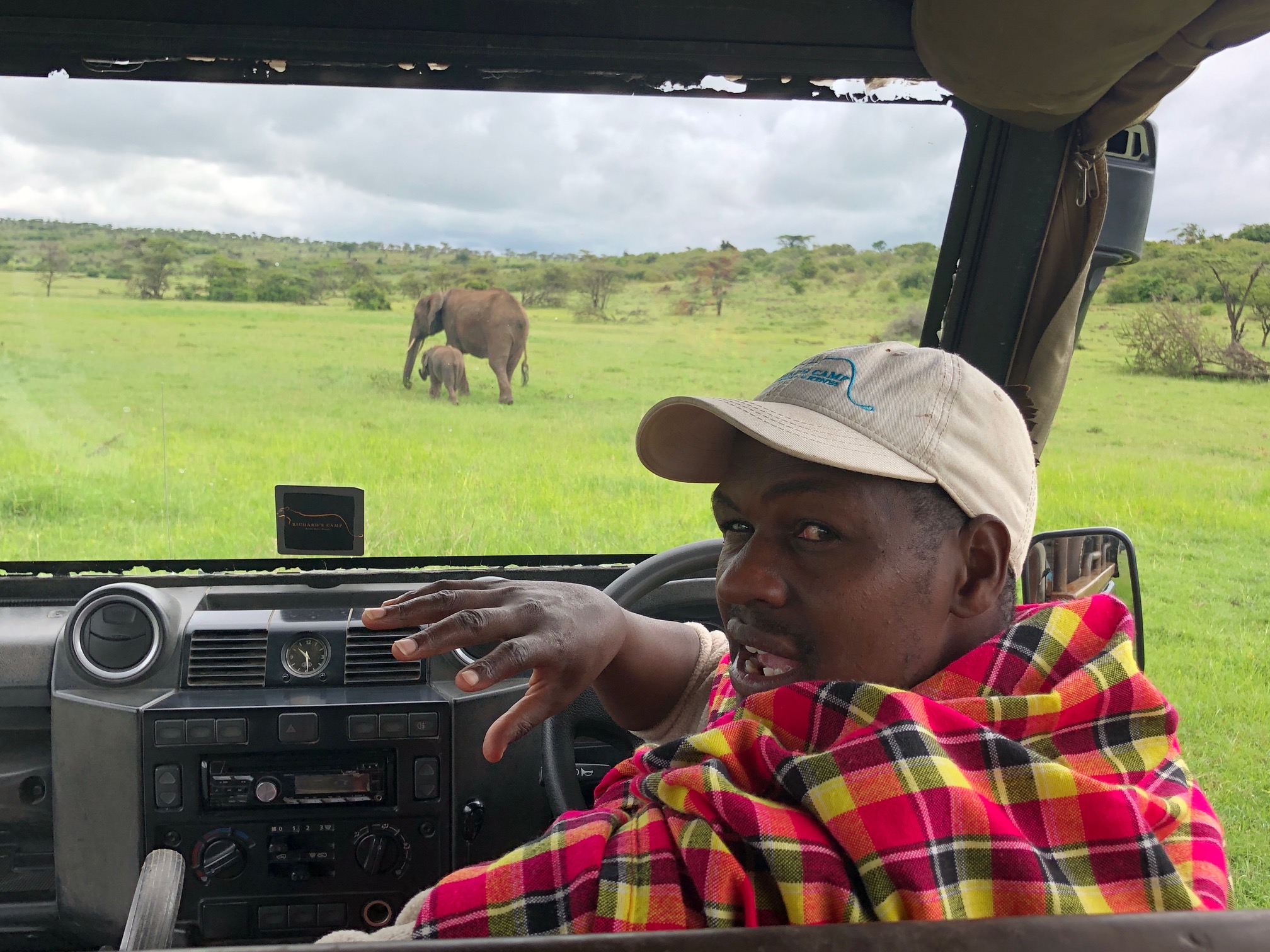 Our Masai Guide, William, was waiting for us in his land cruiser on the North Masai Mara landing strip and took us on a glorious two-and-a-half hour safari drive that delivered us to camp just in time for scrumptious lunch. We saw just about every animal on the drive including a cheetah posing on a small hill of dirt, as if waiting for the next scheduled National Geographic photographer to show up for his shoot!
David's Camp and the whole vast area of the Masai Mara had been drenched with unseasonal rains just before we arrived…just like RAS on the coast…and they were not finished yet, as we soon learned! We arrived to find the land lush with tall green grasses for the animals, but soaked with water, making some of the streams and small rivers we crossed daily on our outings with William barely fordable, even in a land cruiser fitted with a snorkel. In fact, the day we left the camp to fly back to the coast, we had to fly in two trips on a four-person helicopter. This is usually used only for the elephant preservation program, funded by David's Camp and operating in the Mara. We could not drive across the river between us and the airstrip. Heavy rains nearly every night while we were in camp, caused all the rivers to swell (including the one our camp rimmed), making them uncrossable.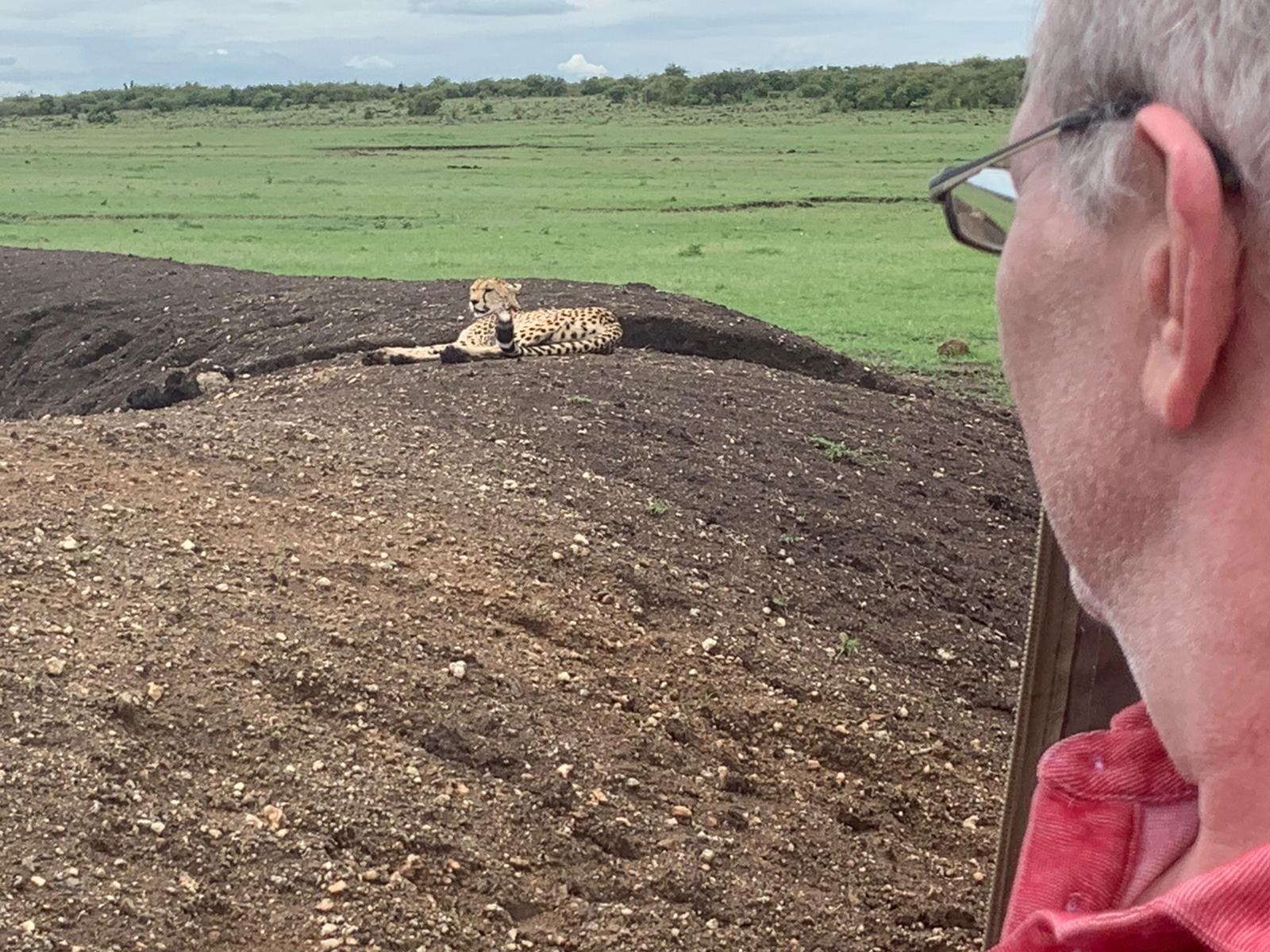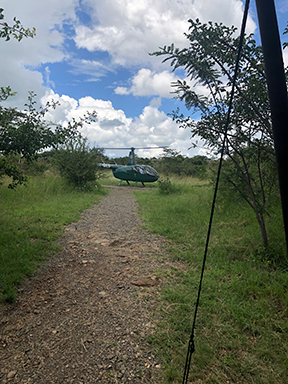 One night after a lovely dinner in the dining tent, it took five of us with umbrellas to walk Larry ("Popi") back to the family tent and keep him dry from the sudden downpour, which was so heavy. We did it with lots of flashlights. And a sense of adventure! In spite of the rains, we had a wonderful safari and the four of us agreed we had never seen such peaceful elephant herds. They let us move amongst them and their babies as if we weren't even there. Astonishingly, the babies weren't even curious about us. We have a video Chris shot where they split into two groups and walked on either side of us and then joined together again as a herd, once passed our vehicle. It was truly amazing! We have been on many safaris and had never witnessed such passive behavior among elephants, especially with babies.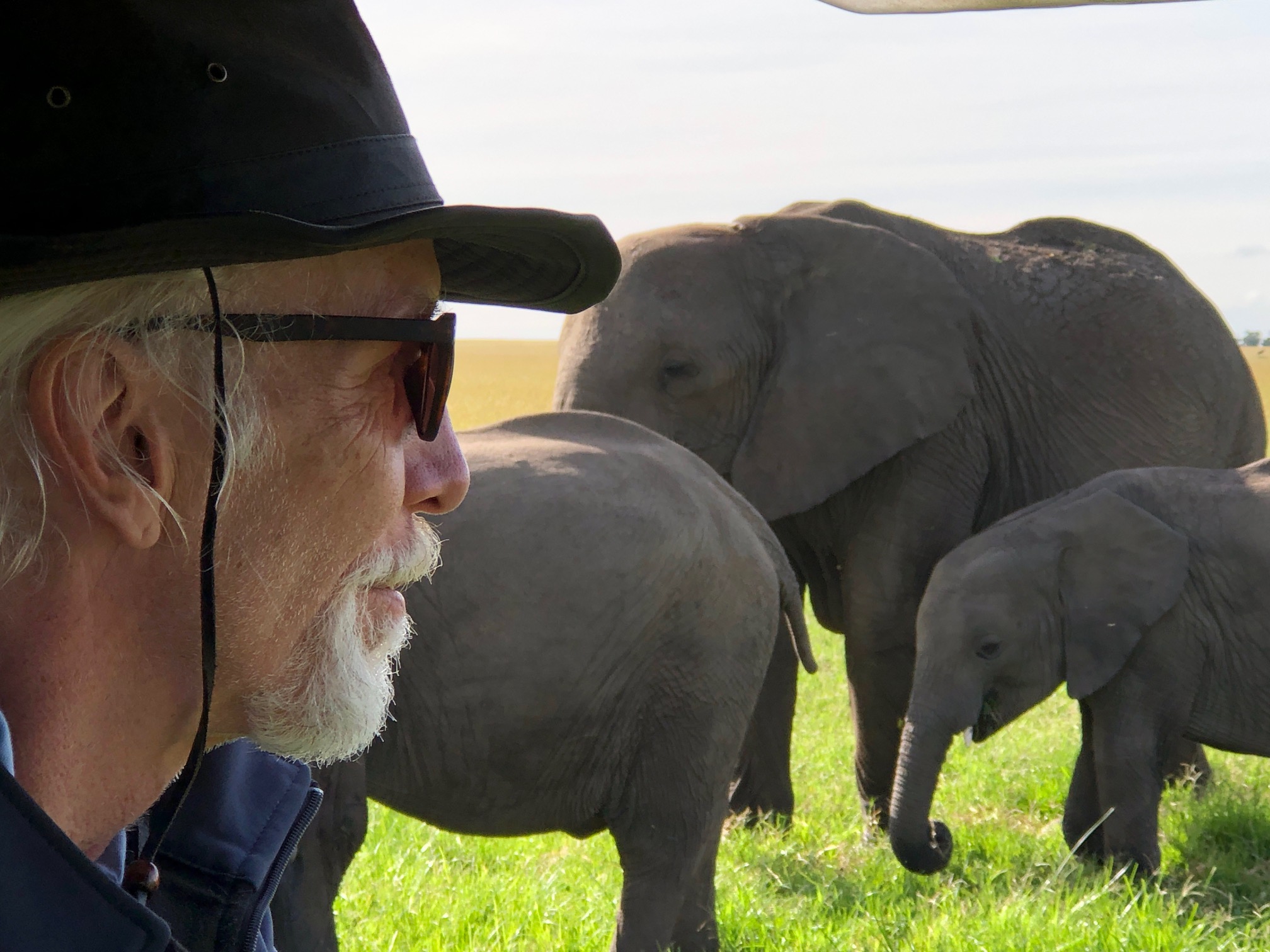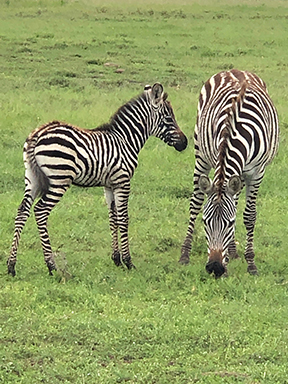 William explained to us that because the early rains brought a bounty of early grasses, the animals breed earlier and everyone was having babies. How lucky for us! One morning the rains held off long enough for our wonderful camp managers to surprise us with breakfast in the bush at the end of early morning drive. The whole kitchen and dining room staff trucked out and had set up a long family table, a buffet of breakfast delights, with cooks there to make eggs, pancakes, and more.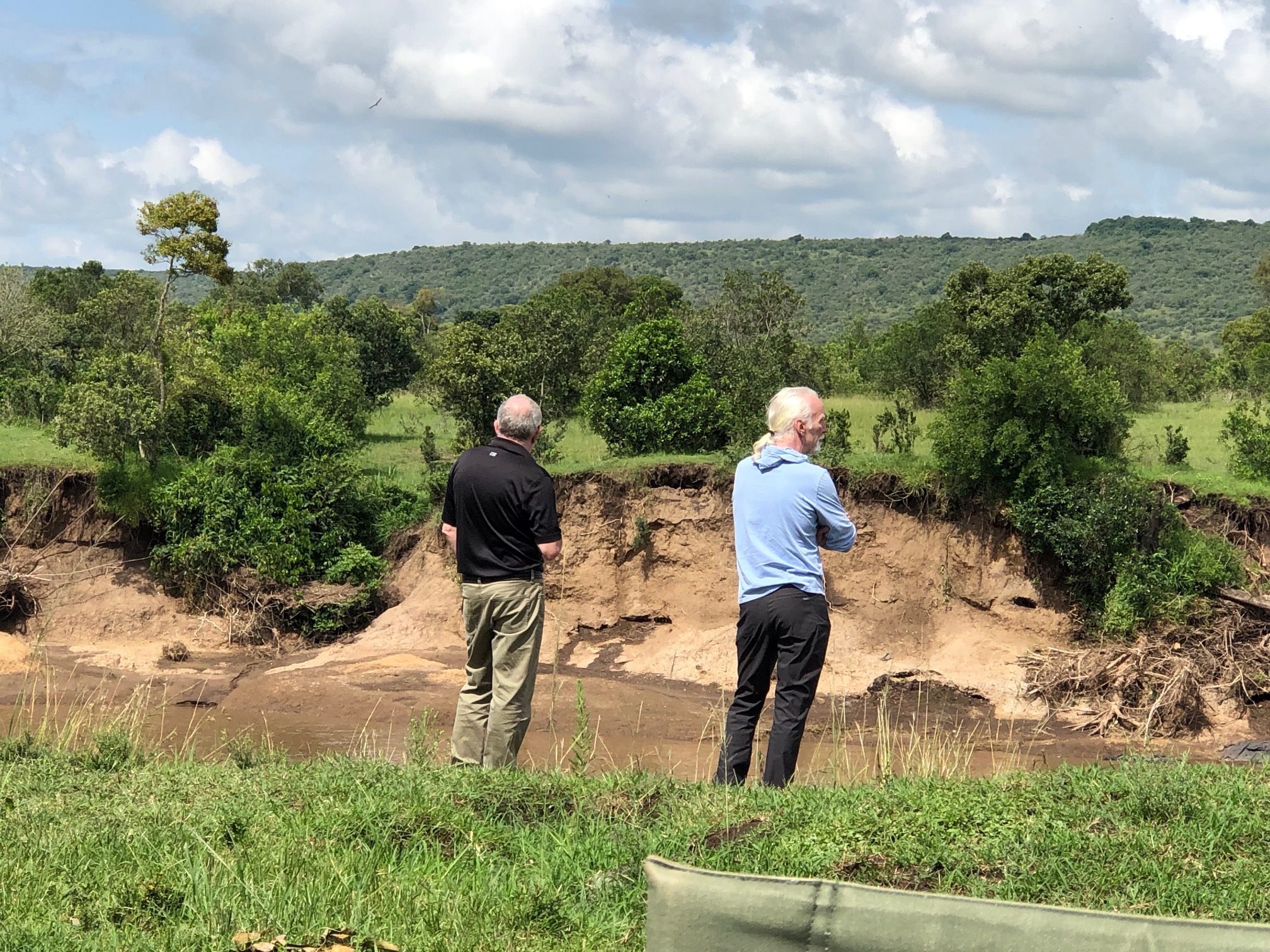 We had a wonderful team caring for us at David's Camp and saw our Italian managers, Andrea and Manuela, off on their month's leave, welcoming Hunter, who was taking over for them. Ann and Josephine ... and oh, so many others ... took care of us and our Family Tent, all so perfect in every way!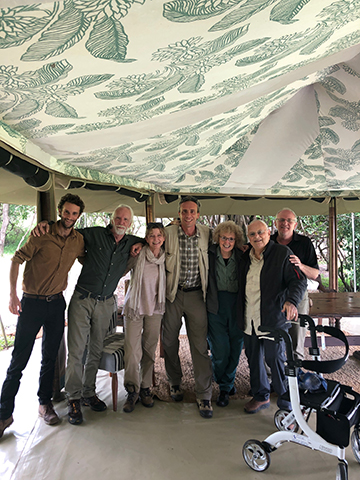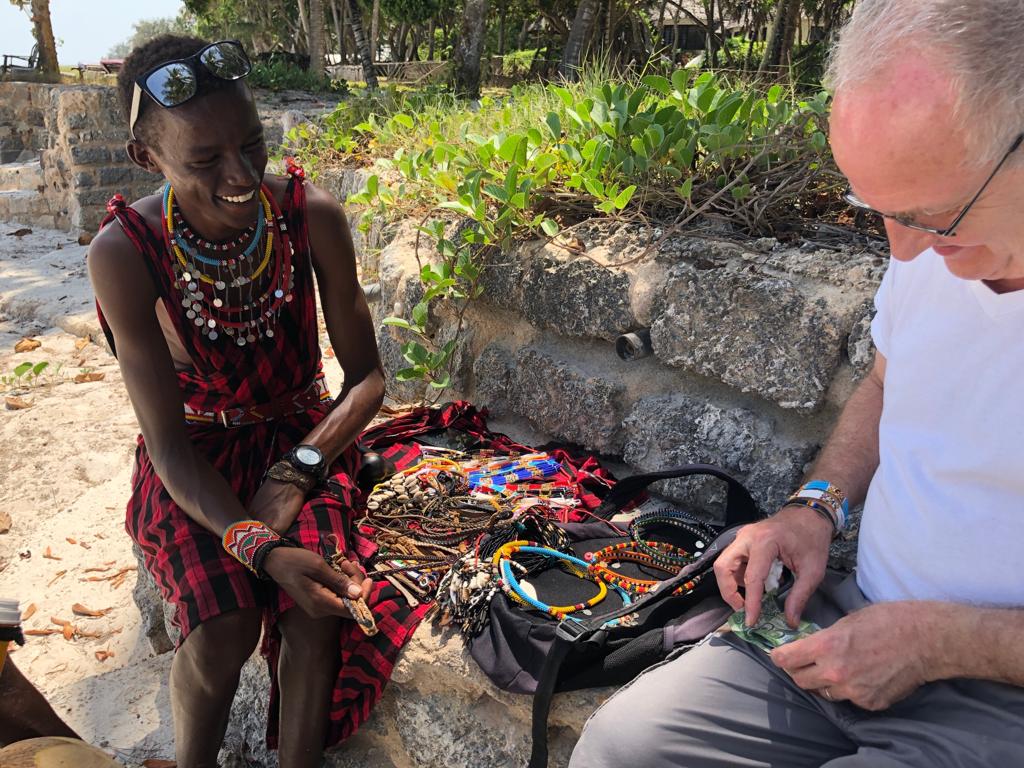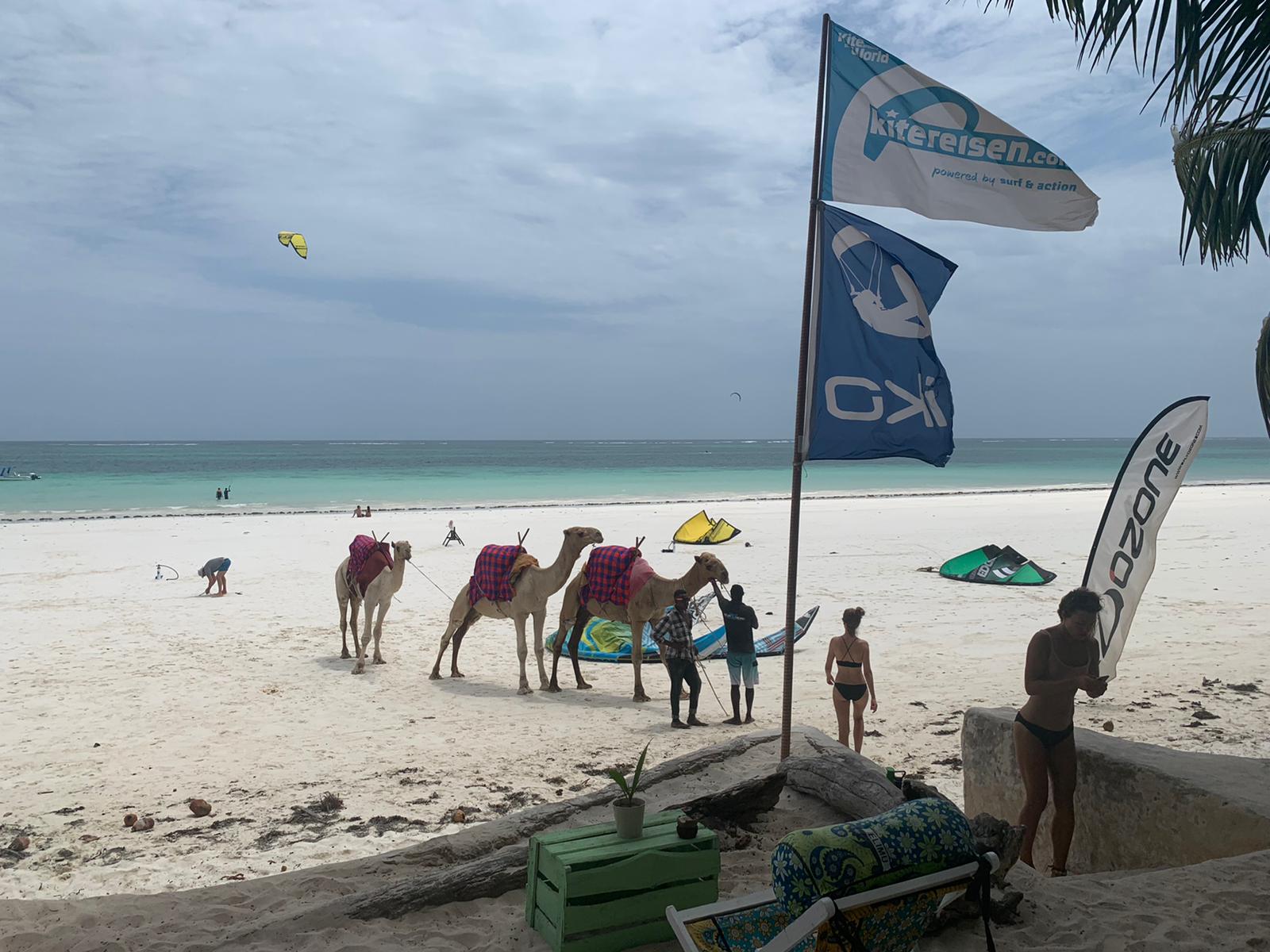 After safari, the last few days back at RAS before Chris and Pete departed, flew by! We made the most of it, including another lunch at Linzi's Kenyaway's Beach Resort, this time just with Pete. He got to meet our Stephen (see January blog and more below) and buy some souvenir bracelets from Masai men on the beach.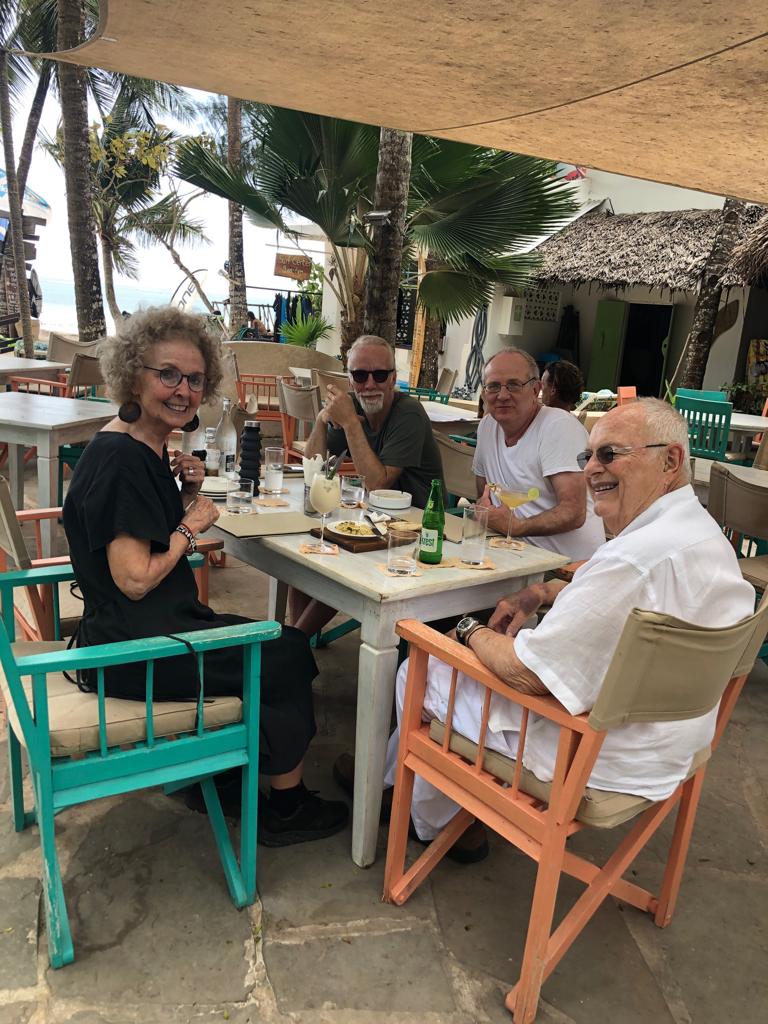 The first time we'd been at the beach before safari, Chris was thrilled by the sudden appearance of three camels on the beach! He promptly posted his pics on Facebook as soon as he could.
Just before Chris and Pete arrived at RAS, the English tutor Linzi (the owner of RAS), had arranged and started Saturday and Sunday classes here with the RAS family. Sunday morning classes always happened out under the Kikadini Tree, which on those mornings we liked to call it the "Learning Tree".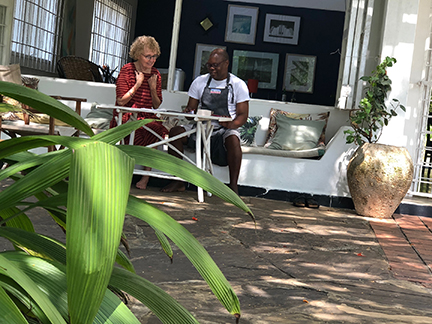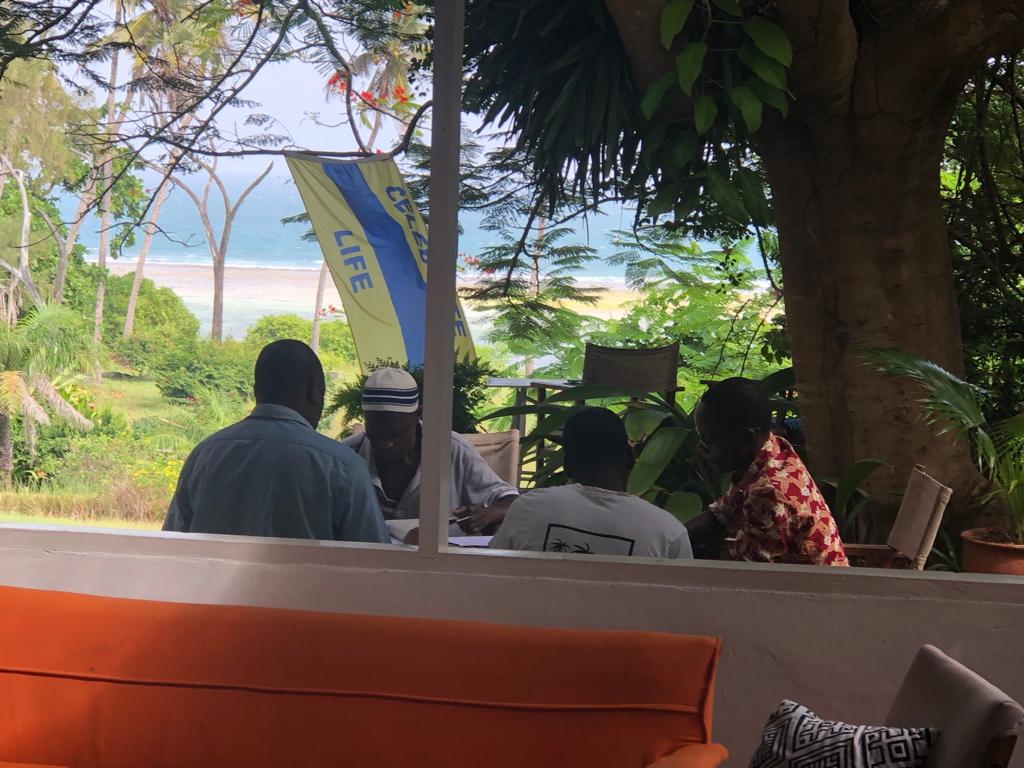 Linzi helped fund our tutor, Wallace, at University so he could study to become a teacher. He was now returning home for three months for his final teacher's training as a practice teacher. As a thank you to Linzi, he offered to tutor our RAS family in English. Linzi and Stephen had been trying to find someone for a year. The problem is RAS is out in the country and getting here is difficult and costly.
Hamisi, our wonderful Chef, even gave up part of his precious Sunday day off with his family to come back to RAS for class. He can read and write English very well, but so very much wants to be able to speak it. Better late than never! We started meeting together each weekday morning after breakfast. Hamisi and I would review Wallace's lesson notes each morning, then he who read aloud from Mandela's autobiography, Long Walk to Freedom, which we had just bought for him. It's five inches thick but he's not the least bit intimidated.
Bakari our "Caretaker of All Things RAS" came to us one day and asked if we could buy his new wife, Hadeja 2, a treadle sewing machine. She wanted to start a business in their house in their village making clothes for women. Eventually, with more training, she would be able to make school uniforms for the children in their village. Once again, we enlisted the aid of our two Kenyan angels, Stephen and his wife, Queen (see January BLOG.) Queen has a tailor shop next to Stephen's IT school so Stephen arranged for us to bring Bakari and his "two Hadejas" to Queen's shop. Bakari is Muslem so, yes, has two wives. We call the newest wife, who has the sewing experience, Hadeja 2. Queen would then evaluate Hadeja 2's abilities and assure us that a machine would be a good idea for her.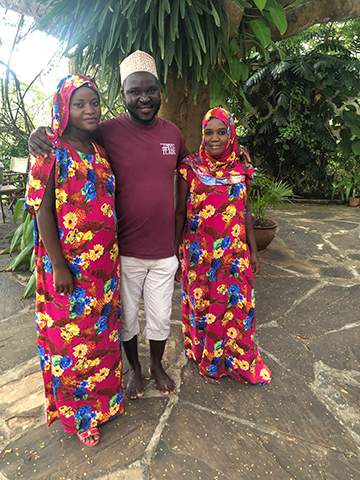 Well, the two Hadejas arrived the day of the meeting dressed in two stunning dresses that Hadeja 2 had just made for them in two different styles out of the same fabric.Even more stunning was to learn that she made both by hand since she didn't have a machine yet. And, that she had already made and sold nine more in their village. Seeing this work and talking to Bakari and the Hadejas, it was quickly clear to Queen that they were ready for a treadle machine. She kindly offered to take a day and travel with them and our wonderful driver Kennedy, to Mombasa to help them find and buy a machine, fabric, and general sewing supplies. We were most happy to fund this venture. Buying sewing machines and starter fabric for women was an important work that we took part in with Turtlewill in both Ethiopia and Mali in the past. A woman with a sewing machine and cloth can change a family's life as well as HER'S!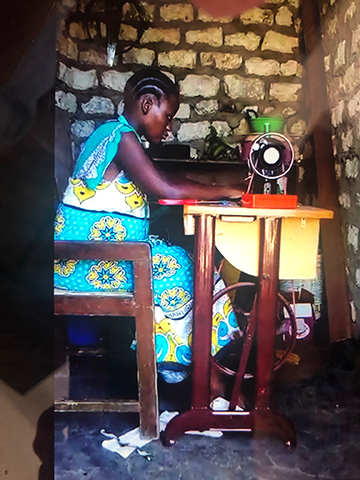 In last month's BLOG, we introduced you to Stephen Kazunga and his wife, Queen, both of whom have become angels in our lives. Since that newsletter, Stephen has given Mkalla, who had just graduated from Stephen's IT school, an attachment at the school for several weeks to help him prepare for a position in the IT world. It is what we refer to as an 'internship'. Having an opportunity to gain practical skills in a work environment that uses his new skills learned in the classroom can make all the difference in the world when looking for a position here in a country with 50% unemployment. This is an amazing opportunity for Mkalla and he his thriving! His position as a gardener/night guard here at RAS has been filled by another young man named Juma. The circle of life continues.....
As our time here winds down, we are finalizing arrangements to help another of the RAS family, Rashidi, and his son Seta. We want to help them find a path to make necessary repairs to their house to keep the rains out before rainy season starts and to tap into a water line near their house so they could start a garden to raise food to help feed the family.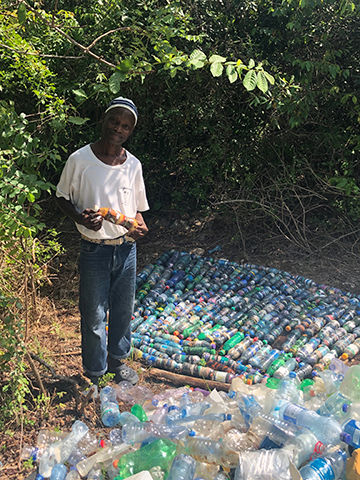 Rashidi has been making Eco-bricks for Linzi from the Taki Taki he collects from our beach
(see last month's blog).
We found pictures online of construction of walls and furniture using the filled bottles as bricks.
Linzi said Rashidi can have them all! He and his brother Juma (our full time gardener) have been carrying two full bags home every night on their bicycles. Rashidi will use them on the house and build a coop for the sheep (which were only lambs when Linzi gave them to him.)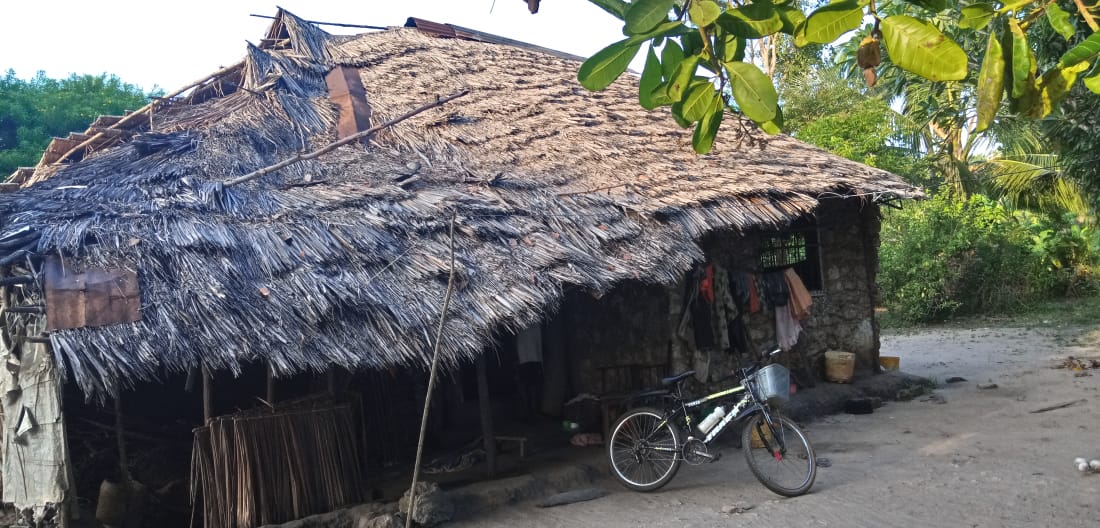 ....and we still managed to spend an afternoon at RAS with our favorite driver Kennedy, his wife Bibi, and their now one-plus-year-old son, Lucky...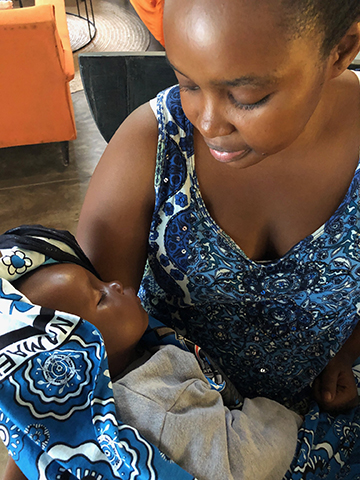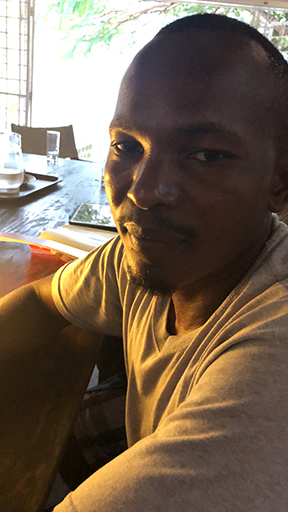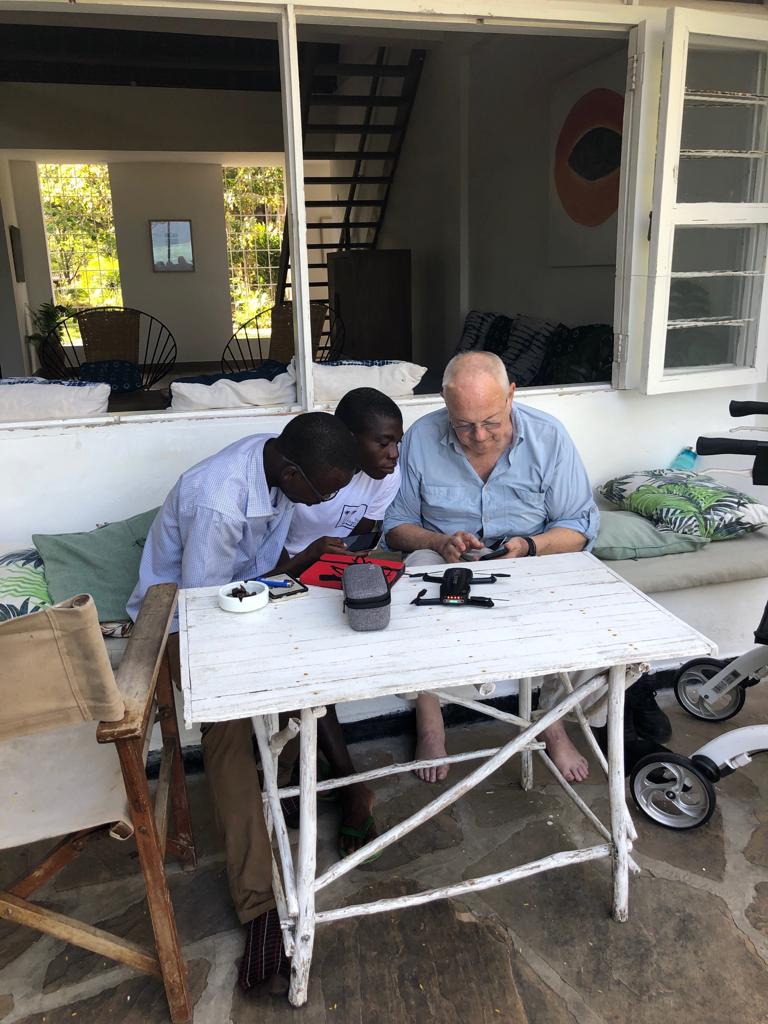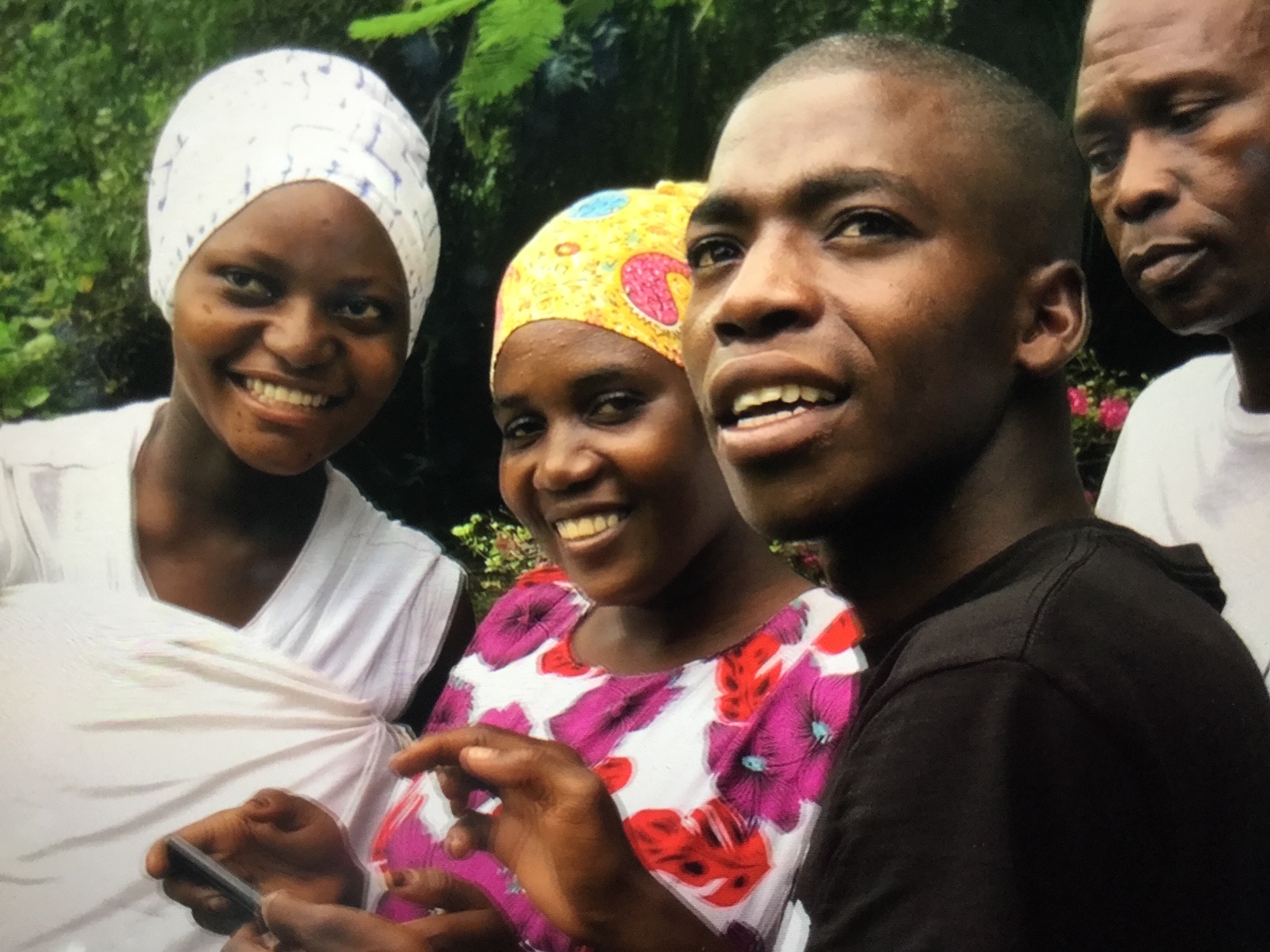 ...and introduced the RAS family to the world of the drone, which Popi ( Larry) brought from home for Mkalla to learn and to teach the others...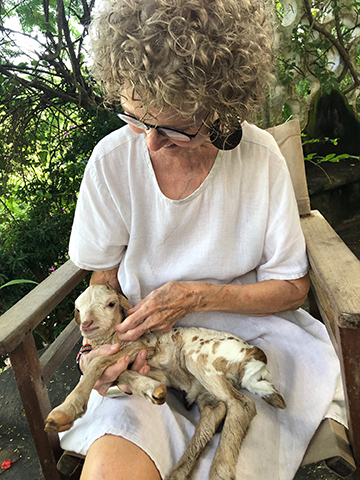 ...we also welcomed the first of two new lambs born at RAS while we were here!

At the end of one of our wonderful days, we managed to sit at the edge of our cliff with some of the RAS family and Pete, breathing in the evening air at high tide! Just as Popi and I had done last year!
The magic of Africa has given yet another journey of wonder, with so many more to come......