A Barge Journey on the Saroche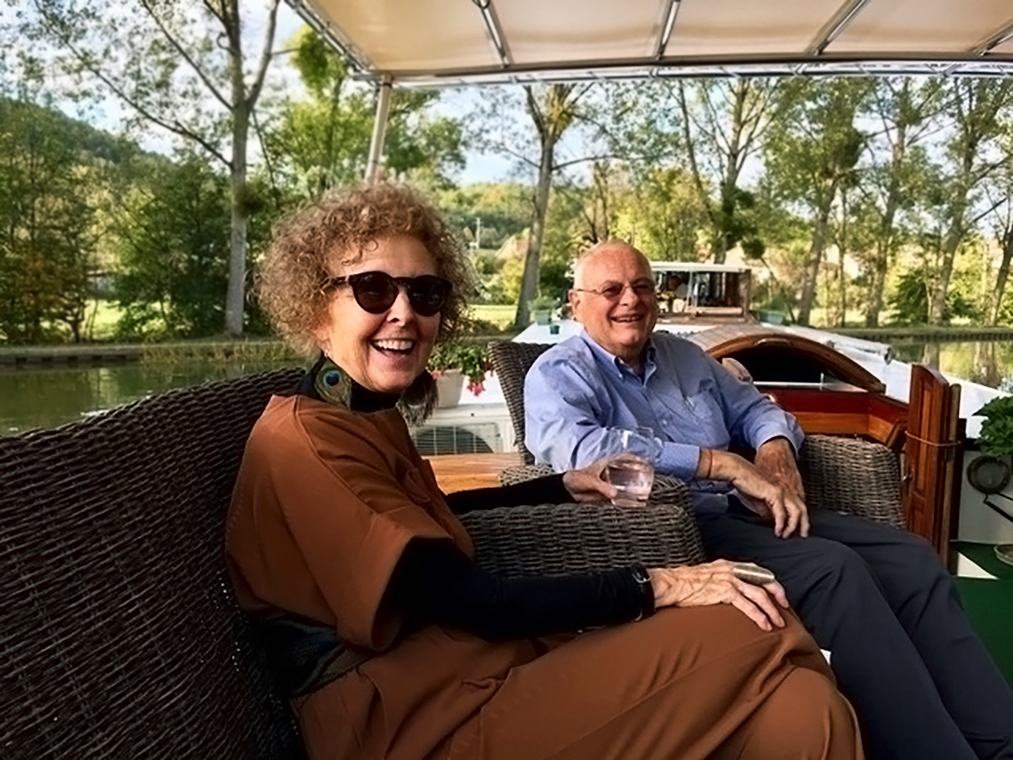 A barge trip in France was on two of Larry's medical school classmate's bucket list so in September 2017, we gathered on the Saroche. Larry and I had fallen in love with barging with family, Sally and Peter Shaw, on their barge on the Canal d'Midi in France many years earlier. Now we'd found Dawn and Jason and their barge, the Saroche.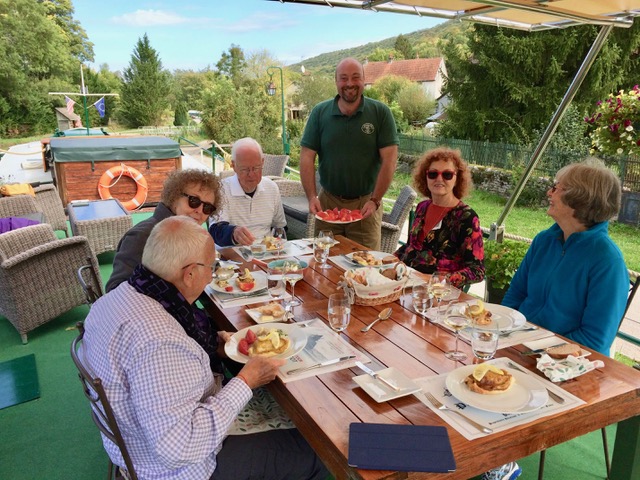 Together, with Garry, Marcia, Connie, and Bob, we shared the wonders of this Burgundy country barge trip for a week of adventure and discovery on the Saroche. What follows is Jason and Dawn's story, as shared by Jason Ashcroft. We hope you enjoy yet another wonderful escape to a beautiful place with beautiful people on the Saroche. Welcome aboard!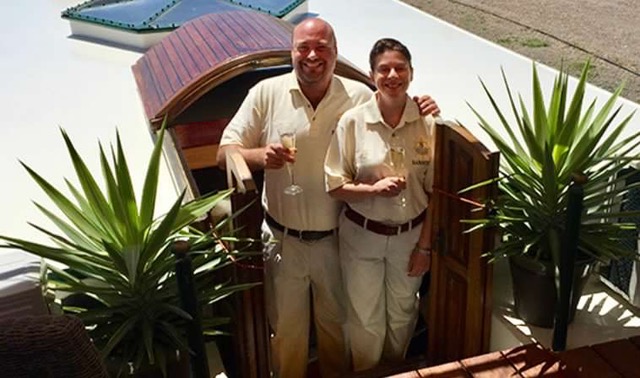 "Hello everyone and welcome to the Saroche!"
It's a short hop from England (where we were both born) to rural Burgundy in the center of France near Beaune, but it's another world. We've landed in a career and life we could never have imagined but love with a passion we are thrilled to share with our guests. We are hotel barge owners and operators. It was our pleasure to welcome Carol and Larry and their classmates on the Saroche and we'd like to take this opportunity to take you on that journey through this BLOG.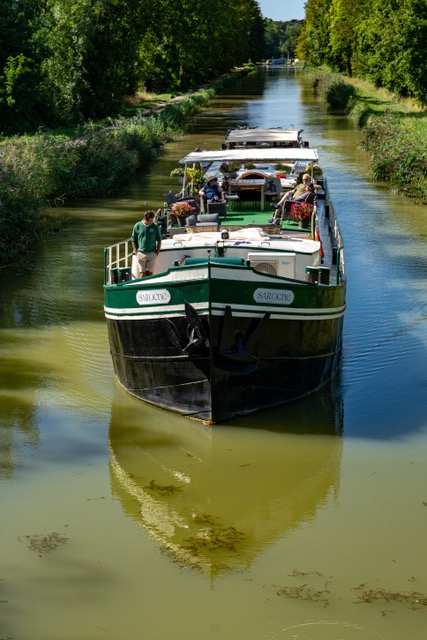 Like everyone, I've had my fair share of misfortune, bad luck, and tough times. However, unlike most people, my therapy, my catharsis and my recovery, is always the same. Sitting on the deck of Saroche looking out at the wonders of France. I simply cannot believe how lucky I am. It's not a selfish luck either, as I get to share it with my partner Dawn and our guests who come from all over the world.

Hôtel barging on the canals and waterways of France is not a new venture. Since the 1970's it has been a recognized vacation that many have enjoyed. However, it is still relatively unknown. There is a simple reason why. There aren't that many barges you can travel on!

A typical barge trip on Saroche is a week-long. It starts from your pick-up in either Paris or Strasbourg (depending on where we are cruising). Arriving at your boarding point, we greet you, show you to your stateroom, get your bags onboard and then get you onto the deck for a glass of champagne and the welcome speech to give you a snapshot of the week you're about to enjoy with us.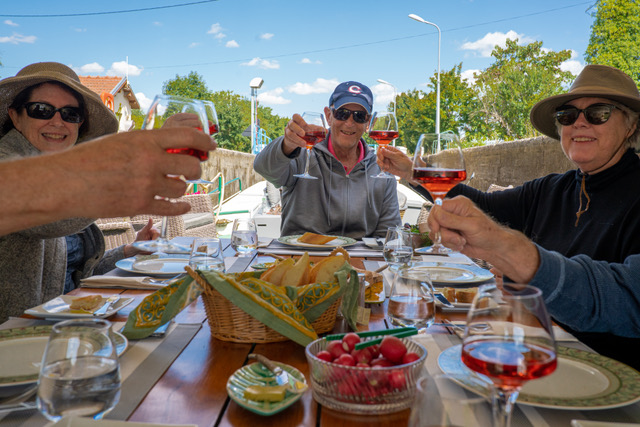 We love meeting new clients, finding out who they are, where they are from and, most interestingly, how they all know each other! Business partners, family, friends, work collèagues, and even high school reunions after 52 years of not seeing each other! That was a week!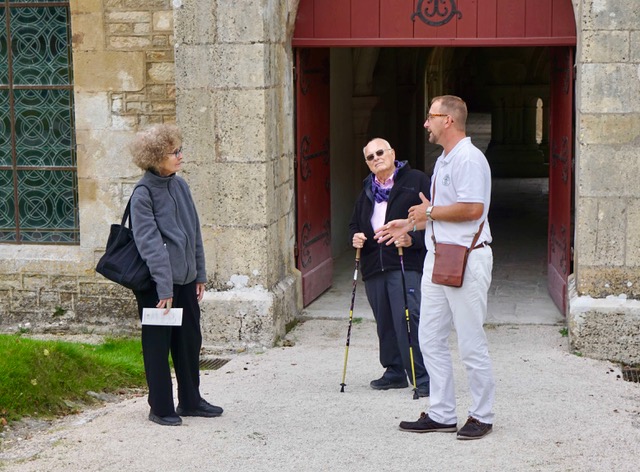 Or authors, like Larry and Carol above, looking for authenticity as they research their first action /adventure novel. They quizzed me and their Saroche guide, on the area featured in their story to make sure of the facts worked with the plot they had created. We took them to several locations that actually ended up featured in the book. Loved The Templars' Chalice, Larry!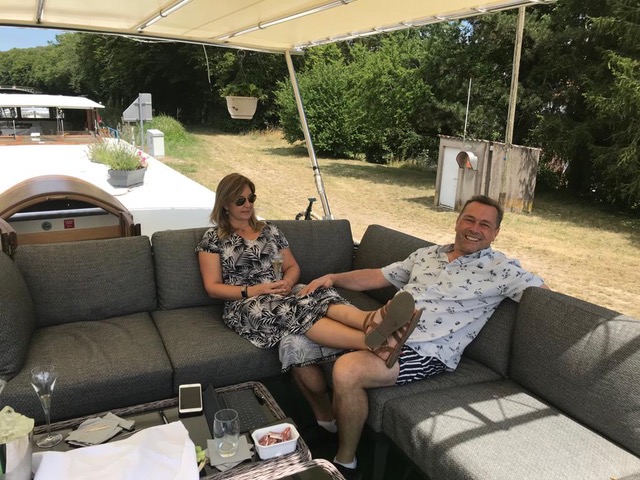 As you get used to being on board, the champagne flows and you settle in. You quickly get the sense that this all about disconnecting, unwinding, and relaxing. It's not unusual for us to have guests who left the office on Saturday evening and caught a late flight to Paris, where we have them picked up the next morning and then delivered them to the barge, moored on the canal waiting for their arrival. So, the contrast can be enormous!

My partner Dawn, who is our gourmet chef, is also the accountant for the business. She is the real boss onboard! And don't I know it! She is a fabulous chef. She helps me keep my svelte figure. Your first dining experience at Dawn's table is often filled with awe. After all, you're on a converted Dutch grain barge that is nearly one hundred years old in the middle of rural France.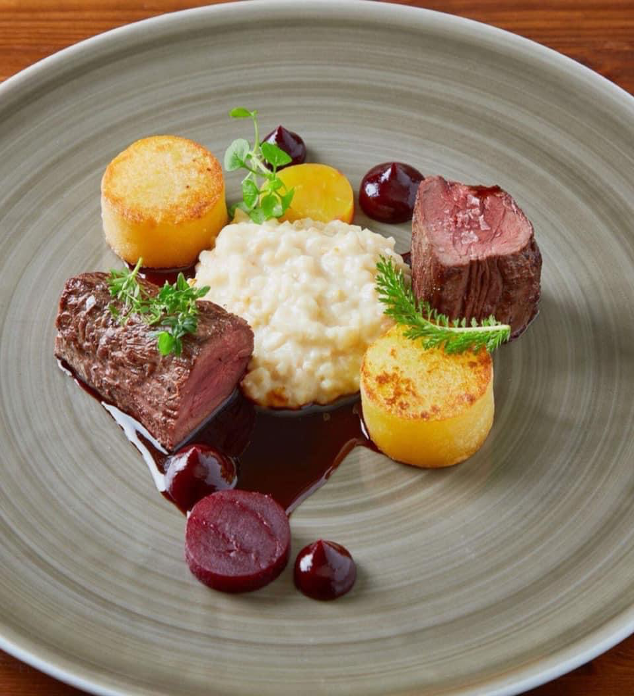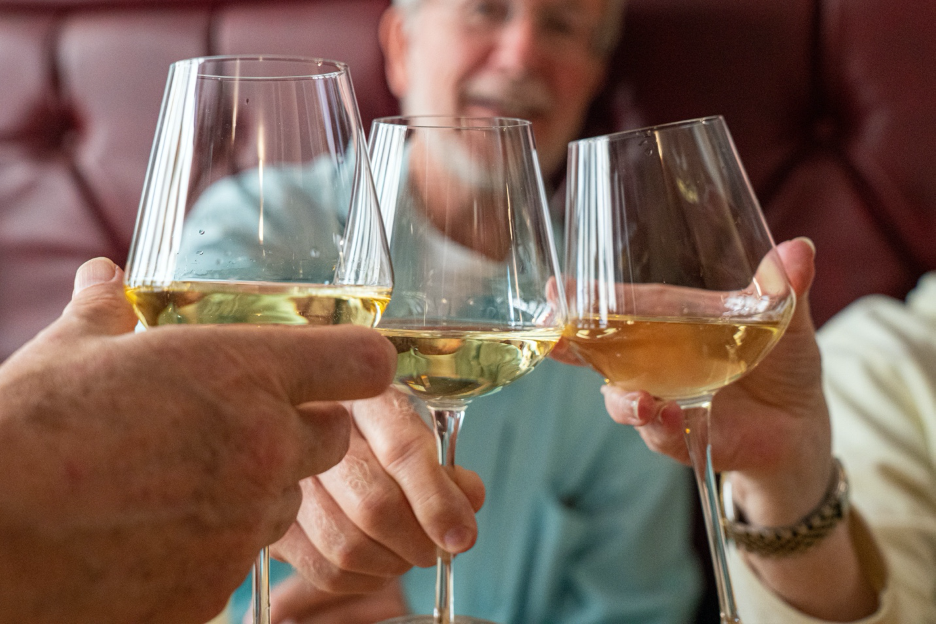 But with dishes like home-made goat cheeses and pink peppercorn ravioli, Crab Soufflés, Traditional Beouf-Bourgogne, with her unique twist, and North Atlantic line caught cod with whole grain mustard ice cream, guests are blown away. The first evening onboard is always filled with satisfied laughter!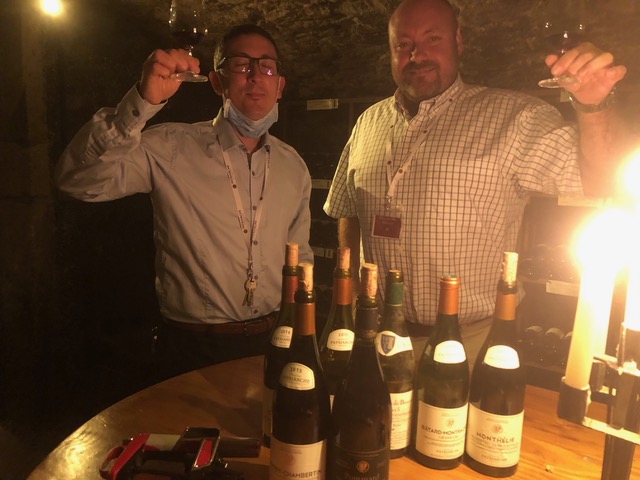 As a sommelier and an amateur historian, I love to show people the classic sites of the area we are cruising. Burgundy, for example, has medieval châteaux, Cistercian Abbeys, and countless villages dating from the 14th century. They say a picture speaks a thousand words. Then Burgundy is talking a lot!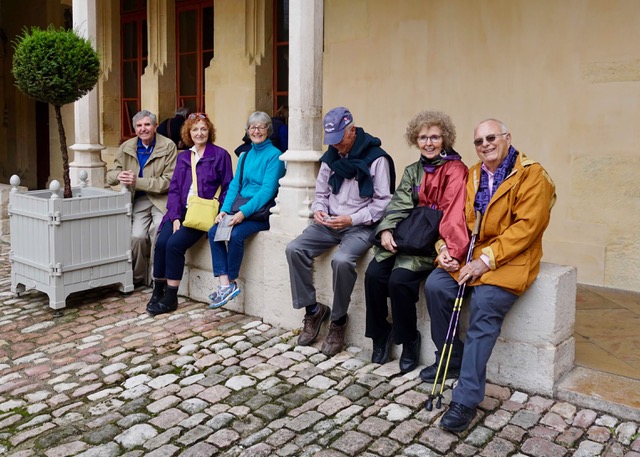 The last few years have been amazing as we have spent the seasons in Champagne and Burgundy dividing the year into two halves, giving a chance for previous clients to return and be with us aboard Saroche but enjoying a different area of France.
As of next year, we shall be heading up to the Alsace. For those of you 'in the know', there is a common theme everywhere we cruise...wine. A week on the Saroche is nothing if not a wine extravaganza. For those who love wine, it's paradise. For those not so keen on this intricate product but up for a new experience, it's a wonderful opportunity for me to impart some of my wine knowledge. Hopefully those folks will go away with an understanding of why this ancient product has become both integral to our lives and, in some cases, eye-wateringly expensive.
Our wine journey on the Saroche starts with champagne served for our welcome. We continue throughout the week with select wines from every region of France. However, there is an emphasis on the region we are cruising through. So, during the week you will have the opportunity to taste and enjoy some of the finest the region has to offer, whether aboard the barge or out at a local wine domaine.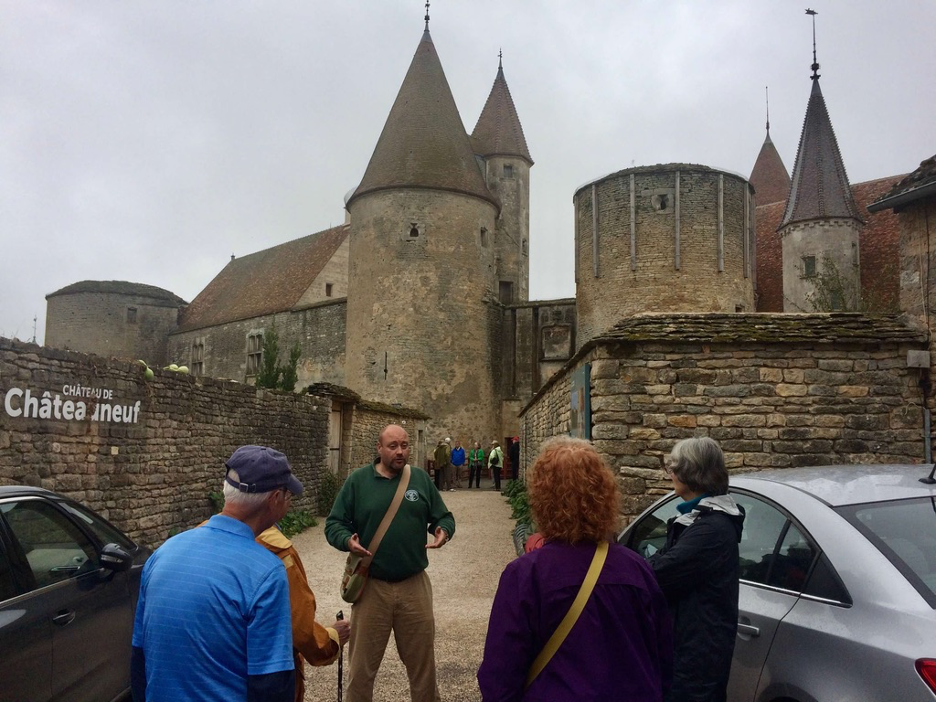 A bit about the Saroche itself. Having just finished a three year renovation program, the Saroche is now a completely new barge on the inside.
Originally built in Holland in 1926, she was designed specifically to cruise through the canals of France, moving several hundred tons of cargo. Four identical barges of her size were built. However, the Saroche is the only one to survive the test of time.
In the 1990's, my good friend Kevin bought the barge and spent three years converting her into the barge you see today. Dawn and I worked aboard the Saroche in the early days of our barging careers. Kevin knew that we always aspired to own a barge like the Saroche, so when he retired in 2015, we were at the top of the list to take her on. We knew she needed work and we set about spending the next winters of 2017,18, and 19, renovating her from end to end.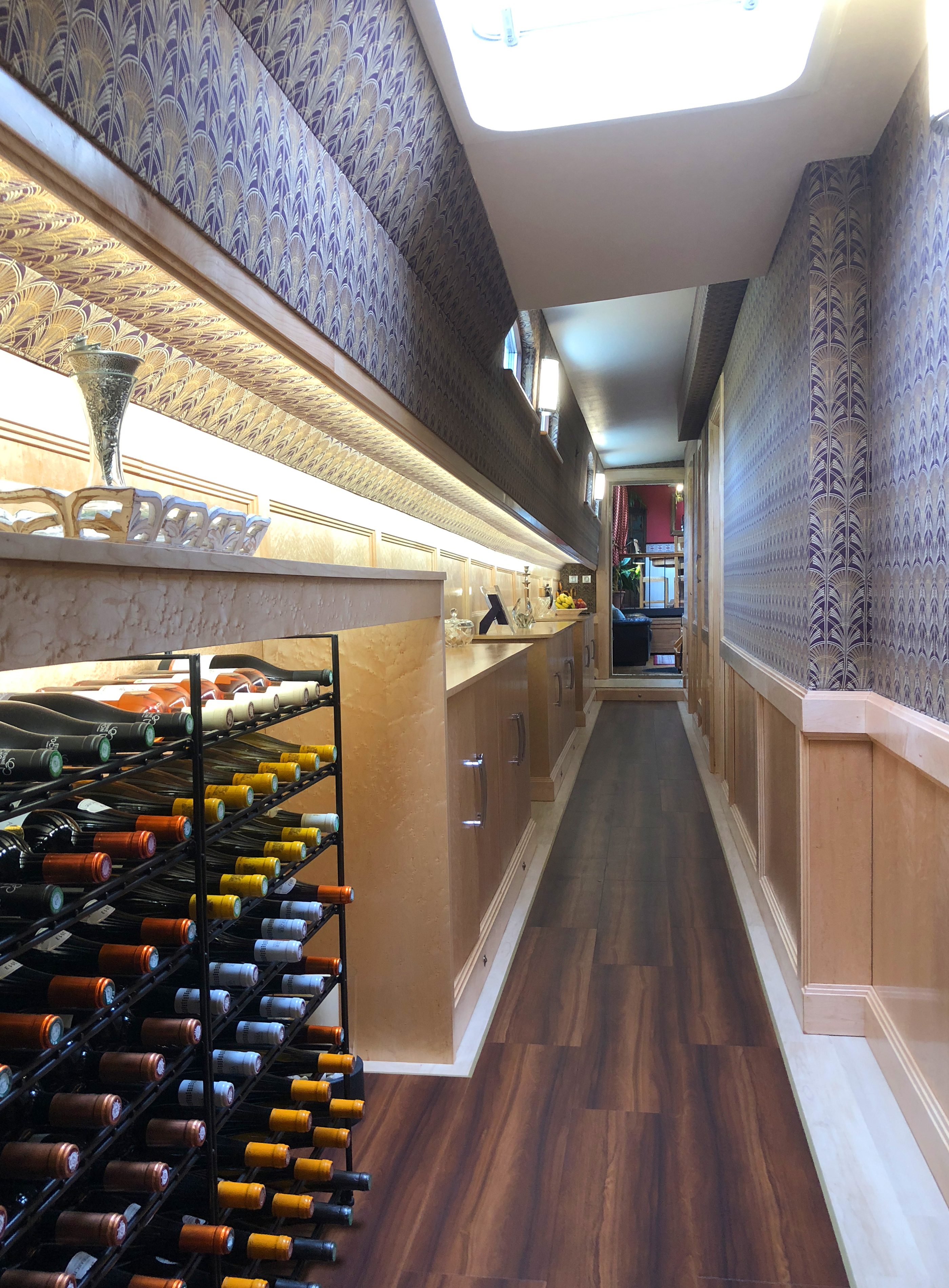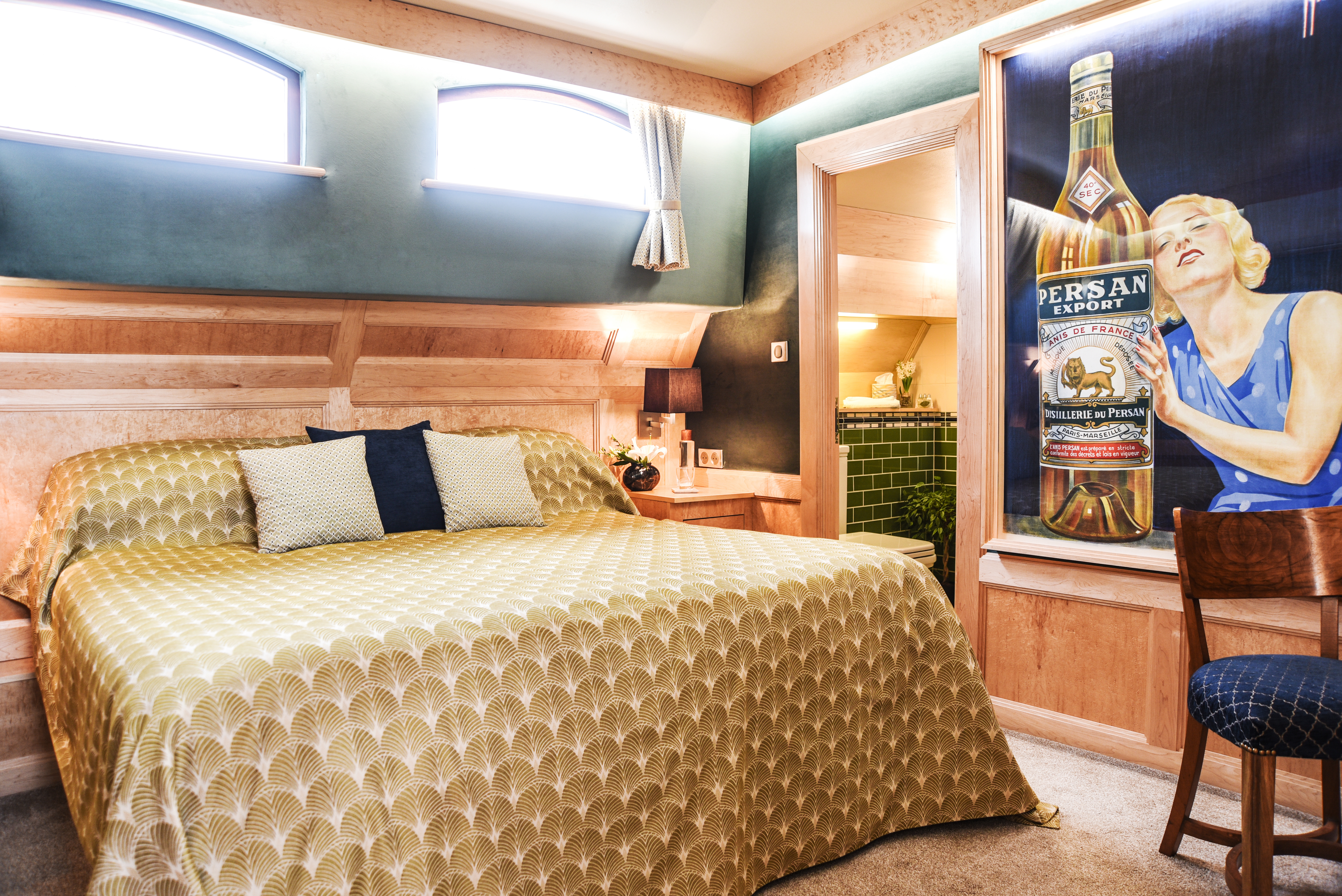 With the help of a few friends, Dawn and I did all the work ourselves and now we can sit back and enjoy living aboard the finest hotel barge in Europe, sharing it with guests and continuing to cruise the canals of France…
...France as it should be seen.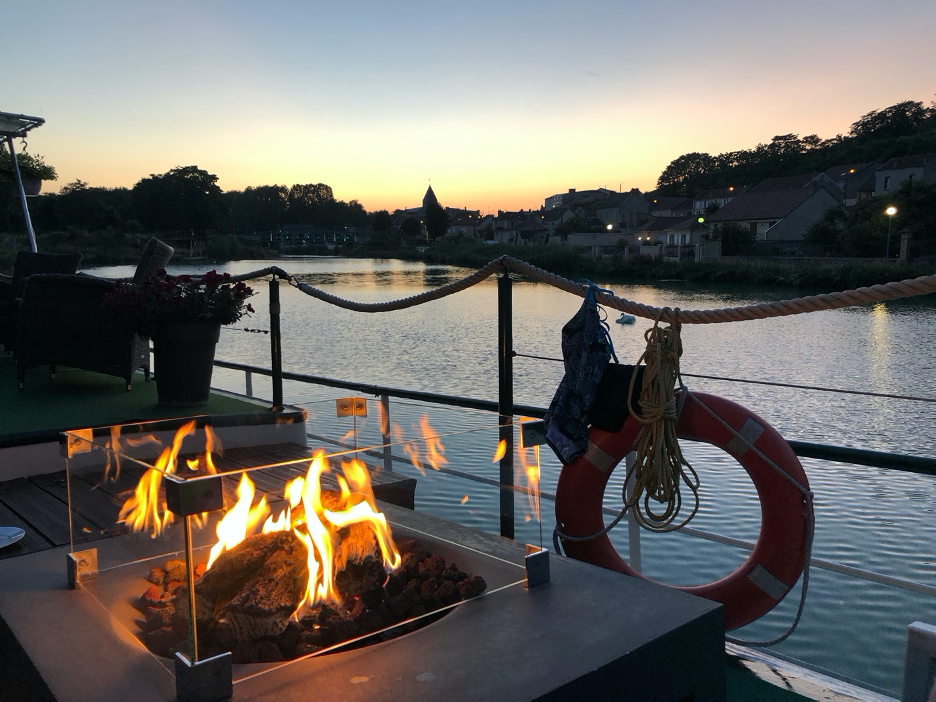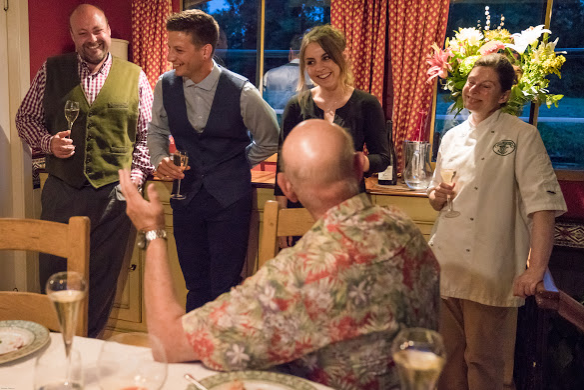 We're often told that folks board the Saroche as guests and leave as friends and family. We'd love to have you join us one day.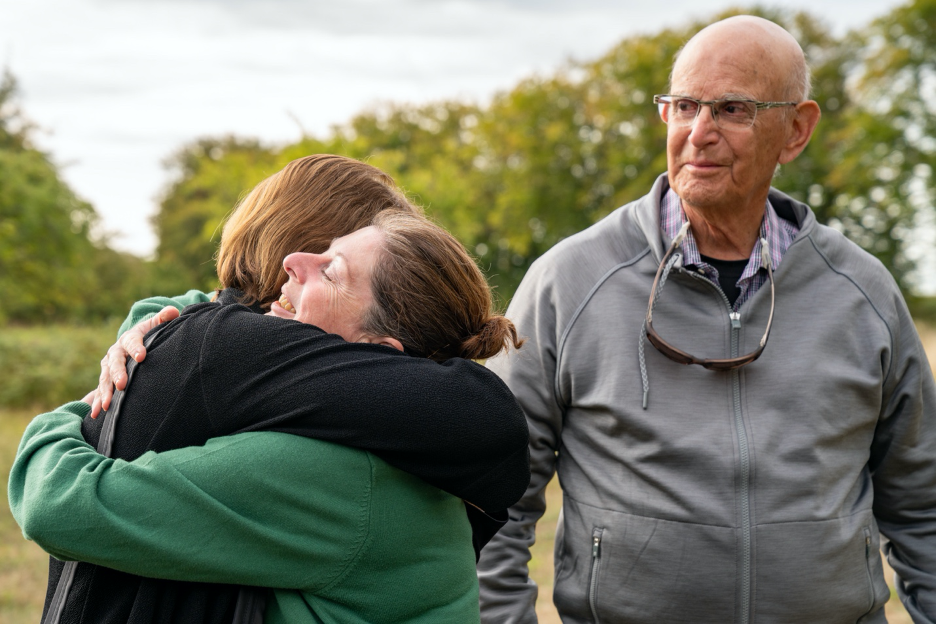 We hope that you've enjoyed this journey. Visit our website to learn even more about our barging journeys.
Our very best and
Happy Holidays to All!
-- Jason Ashcroft and Dawn Coles
charterbarge.com
"France as it should be seen"

Larry and I want to thank Jason and Dawn for sharing their barging life
with us and our followers.
It's a Journey of their Hearts to be sure.
Hope you've enjoyed our first ever guest blog.

We both wish for safe holidays of all sorts for our international family
in all corners of the world.


Follow us on Facebook, LinkedIn, or Twitter to stay current, and to be a part of the conversation … we welcome all your comments! You can also email us at: carllawrenceauthor@gmail.com
Please visit our main website page: cldecker.com to read more about, or order copies of, our other recent adventure novels, Juliette's Van Gogh and The Templar's Chalice. And if you haven't already, we'd love to have you subscribe to our newsletter.
We are still making good progress with Book #3, which now has a new working title … GETTING THERE FIRST.
Stay tuned! Please keep the faith! And most importantly, stay safe!
Larry and Carol
C.L.Decker and C.A.Scribner