A Family Journey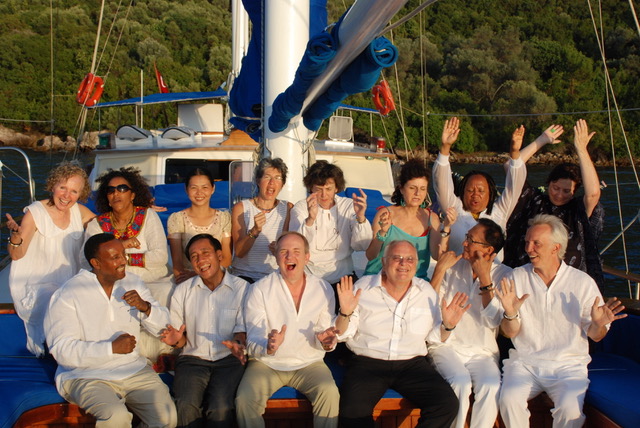 Our Vietnamese son Lam planted the seed for this journey. During one of several visits to Vietnam with him, Deim, and their daughters, Lam shared a yearning to meet his brothers -- our birth sons, Peter and Chris. It took two years of planning and saving to make this dream a reality.
This small portion of our International family found its roots in seven countries … the USA, Ethiopia, Vietnam, China, Cuba, and South Africa, and five religions … Christian, Ethiopian Christian, Buddist, Jewish, and Muslim. Many were meeting family they had only seen photographs of or heard stories about. It was in the early days of video calls, when social media was an infant, and before Whatsapp was born. Magic happened almost instantly as we gathered in Istanbul after flights from all over the world. We were blessed, as always, with an amazing Turkish Guide, Gulden, who quickly became a member of the family.
We started in Instanbul, getting to know this great city and its amazing history as we got to know each other.
(Caridad had passport problems in the USA and was on her way to catch up with us a day late, so she is missing in the above photo.)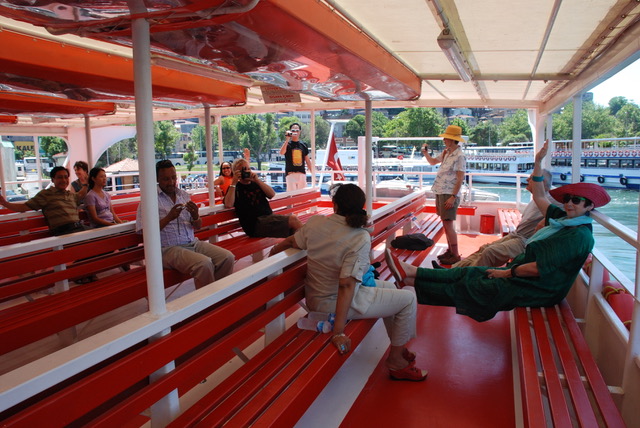 A private cruise on the Bosphorous, the river that divides the European side of Istanbul from the side that borders Asia, was a cool, relaxing treat.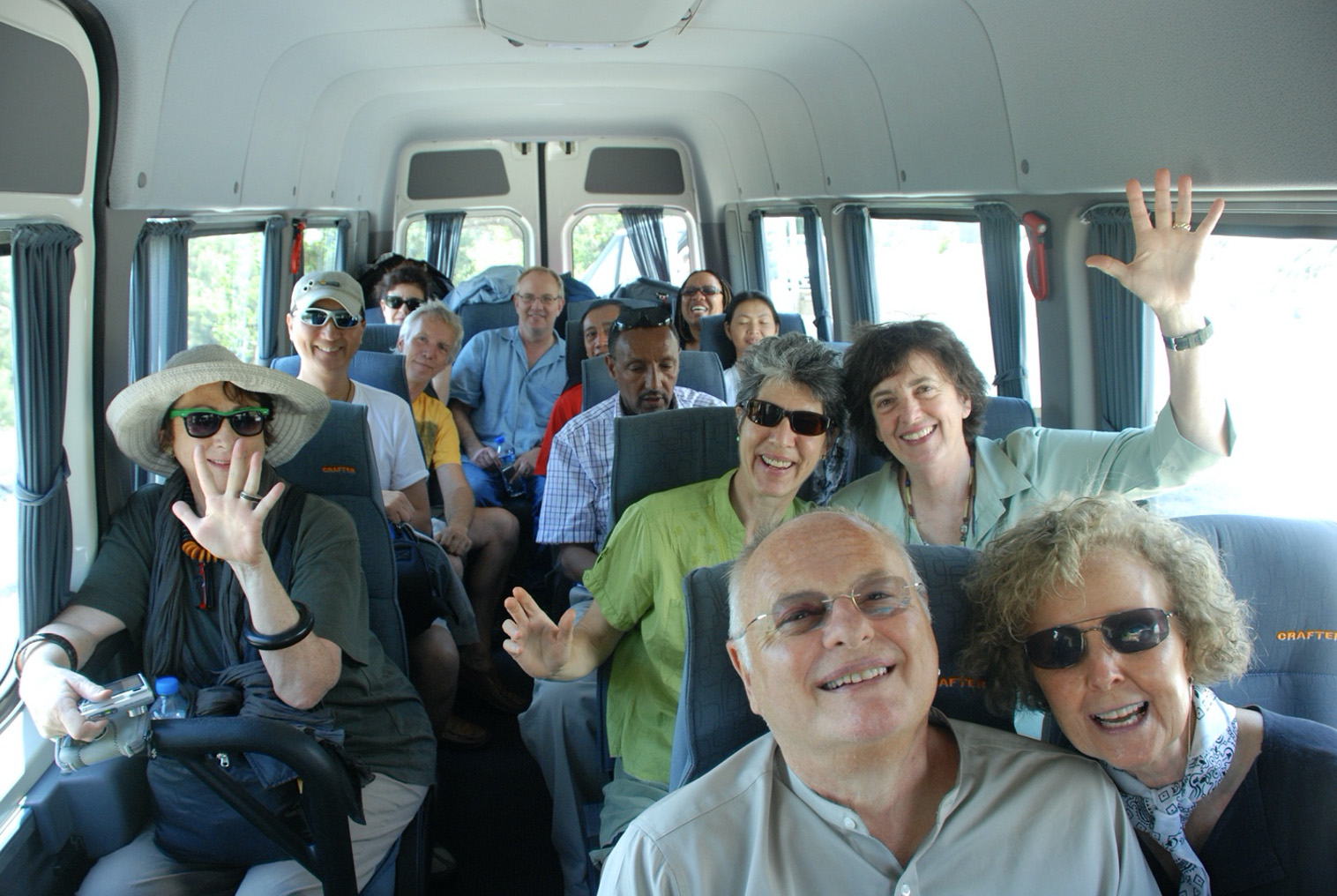 We flew together on Turkish Air down to the coast where a motor coach picked us up to deliver us to our new home after lunch. We made a few interesting stops in the countryside, then went on to meet our Gulet (a traditional Turkish wooden sailing boat) that was waiting for us on the coast.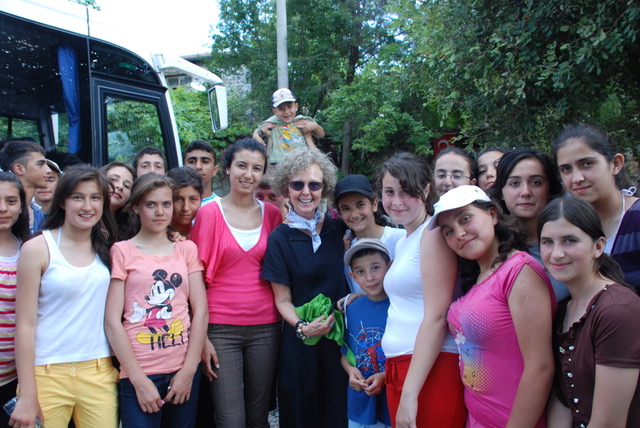 School children encircled me on a class trip when they discovered that they could practice their English with me. One of the special joys of travel. To feel real warmth. It never gets old and you can find it wherever you journey.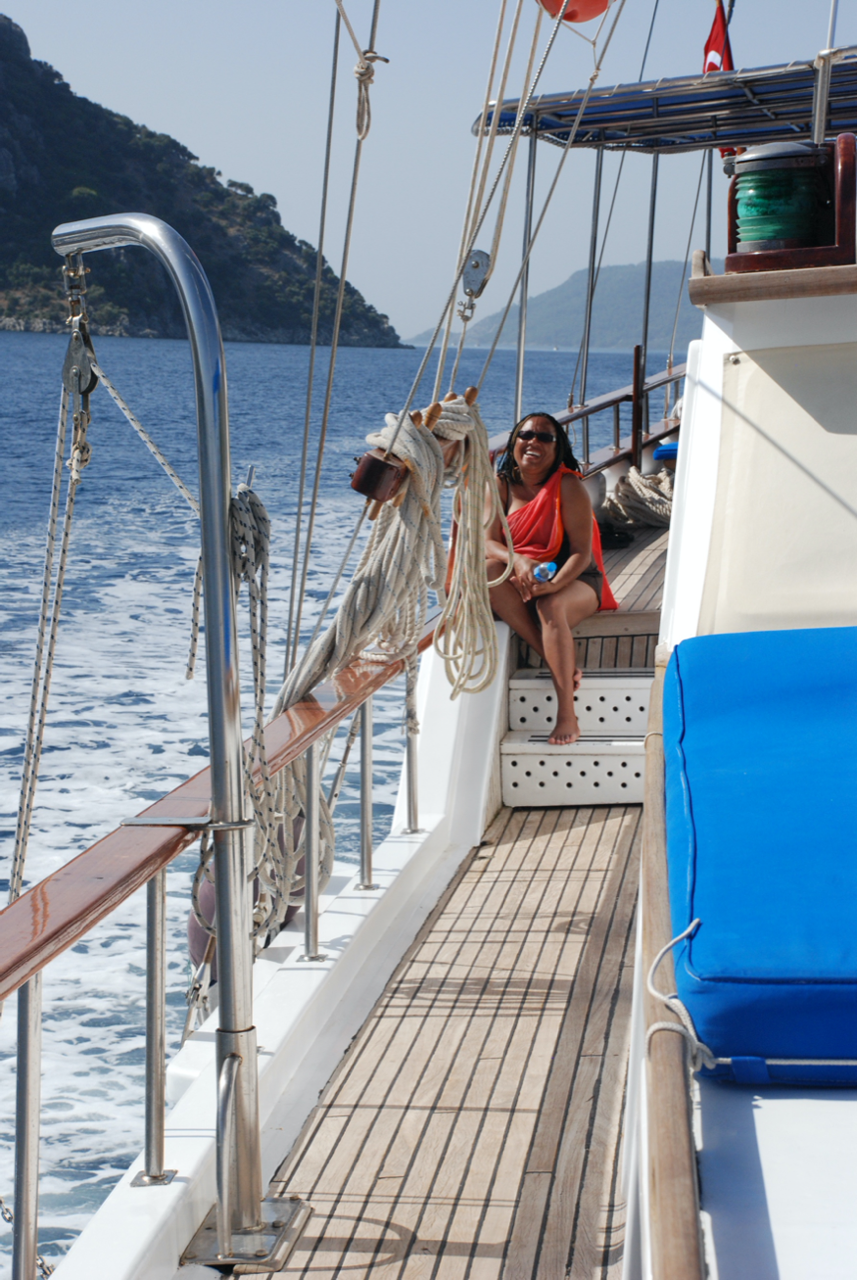 Our beautiful Caridad didn't waste any time getting into the spirit of our voyage. She shared her Cuba with us years ago and we've shared our life with her ever since … another story yet to be told.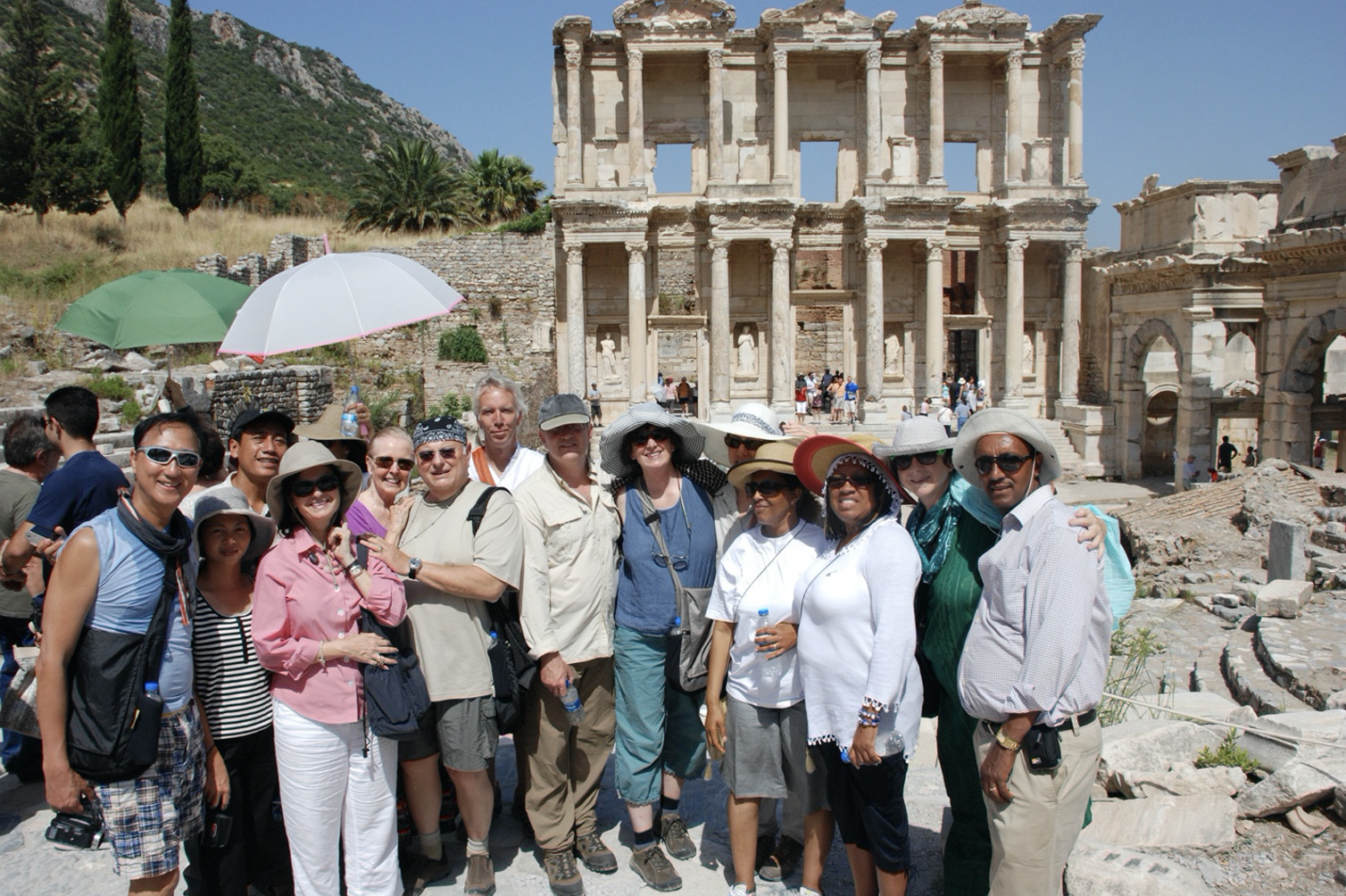 We explored the amazing history of this ancient land through Guldens' stories of the lives once lived there, bringing childhood textbook tales to life in our many languages.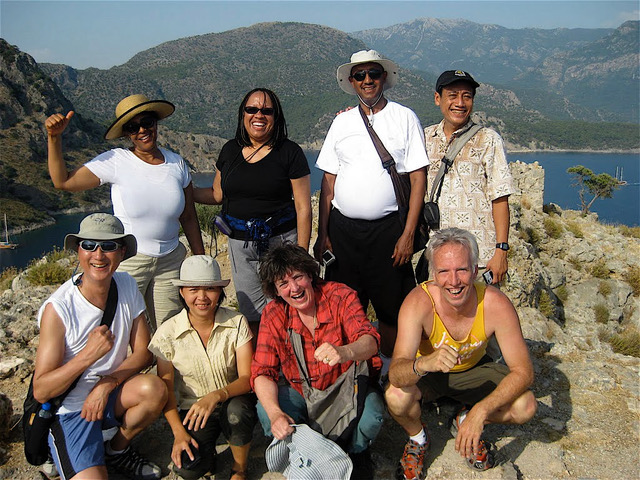 The intrepid amongst us trekked to the top of the beautiful islands to enjoy the vistas before them. Don't they look like a family? That day, they represented a part of our beautiful, ever-growing global family.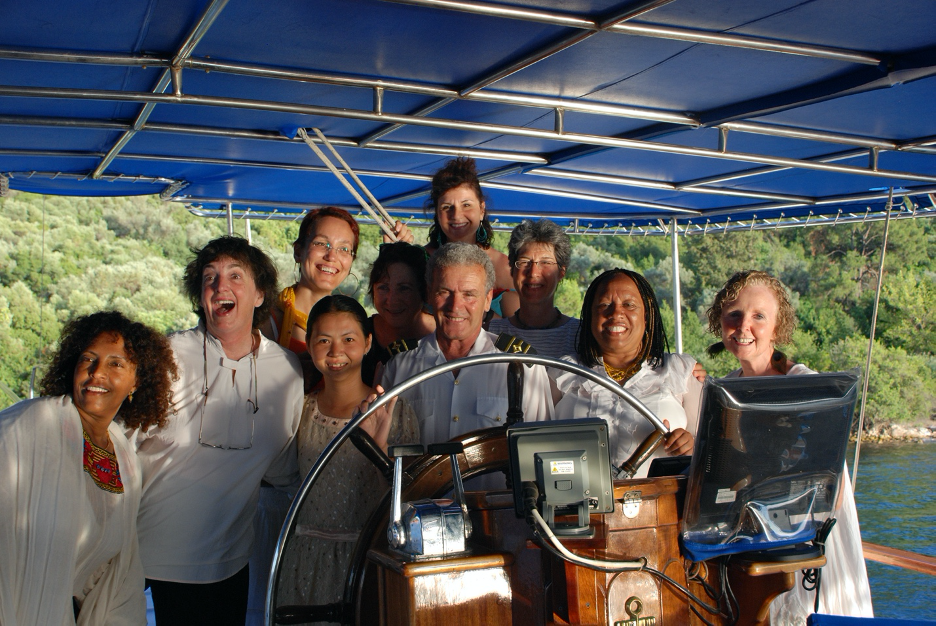 Our Captain with his international HAREM … Mommie, KJ, Deim, Gulden, Eugenie, Vonnie, Di, Caridad, and Mimi.

We played, we danced, we sang, we laughed, we cried, we feasted and smiled, shared dreams and memories ... and even taught our precious Yohannes to swim!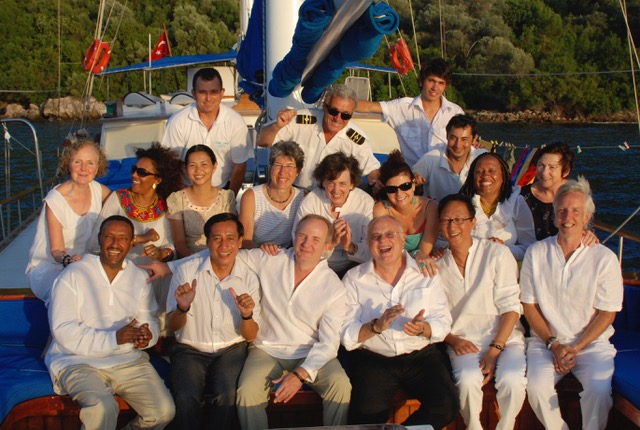 And in the end, Family, Captain and Crew, we had JOY! We CELEBRATED LIFE … our lives together!
Above is Yohannes, Lam, Pete, Popi, Ed, Chris, Mimi, Mommie, Deim, Diane, KJ, Vonnie, Caridad, Eugenie, and our beloved crew, who first thought they had booked a religious cult when we first boarded. In the end they GOT US! We thank our Gulden for taking the picture!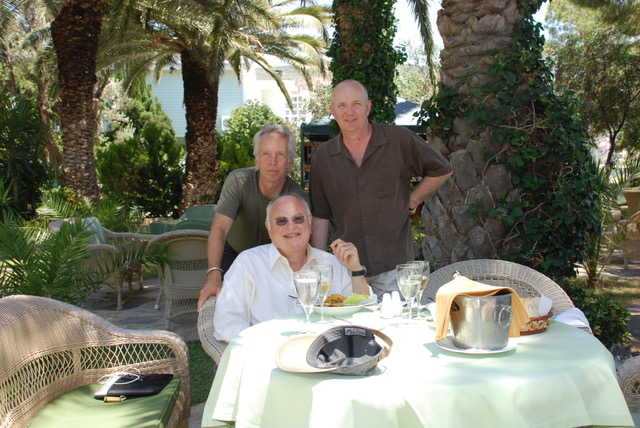 One last image from Turkey of Popi with our birth sons Chris and Pete, who so lovingly, unselfishly, and willingly share us with all of our International Family… we are so very blessed with their big hearts. So blessed to have them in our lives.

Larry and I hope that you have enjoyed moments of yet another journey from our life's Journey of our Hearts. We hope for these precious moments you gave us, you've found some joy in our shared moments of joy.
---

Follow us on Facebook, LinkedIn, or Twitter to stay current, and to be a part of the conversation … we welcome all your comments! You can also email us at: carllawrenceauthor@gmail.com
Please visit our main website page: cldecker.com to read more about, or order copies of, our other recent adventure novels, Juliette's Van Gogh and The Templar's Chalice. And if you haven't already, we'd love to have you subscribe to our newsletter.
We are still making good progress with Book #3, which now has a new working title … GETTING THERE FIRST.
Stay tuned! Please keep the faith! And most importantly, stay safe!
Larry and Carol
C.L.Decker and C.A.Scribner